Luke Beard (@lukesbeard) is UK-born product designer and photographer currently residing in Atlanta, Georgia. In 2013 he founded Exposure – a publishing platform to help individuals and brands create and share their stories visually. We have such a good time chatting about side-projects, growing sustainable businesses, what he looks for when taking photos, why we're attracted to heavier music and where we draw the line between personality and professionalism on social media.
---
Conversation Topics:
01:00 Meeting for coffee in Cape Town
01:44 Do you miss England?
03:33 Selling "Don't be a dick, just be nice, it's that easy" prints
05:34 Intermission: No Context
06:66 Metal discussion
09:28 Intermission: Thrash metal solo
11:10 Why do you think good design is less subjective than good music?
13:18 Promo: Any Distance app
13:54 It seems you are having a blast building Any Distance?
18:35 Do you think if we're not using our own apps during the building phase, they will fail?
19:54 Intermission: Experimental music feedback to yo@robhope.com
20:07 Are you consciously trying to not overlap Any Distance features with competitors?
22:46 How do you find the perfect typeface for a project?
23:56 Are you building Any Distance in the public according to a planned posting schedule?
25:38 What are the plans for the Any Distance Augmented Reality medal?
26:52 Intermission: Overrated, Underrated
28:15 How is your main project Exposure going?
30:32 Is Exposure sustainable?
31:20 How big is the Exposure team?
32:24 Brands currently using Exposure
33:51 What are the biggest lessons learnt since starting Exposure?
35:52 Promo: Yo! Podcast Soundtrack on Spotify
33:51 In hindsight, do you think one should aim for a co-founder when starting something the size of Exposure?
38:18 Intermission: True, False, Maybe
40:28 Building a garden office shed
42:10 Where do you draw the line between personality and professionalism on social media?
44:02 What do you look for when taking a photo?
45:10 What advice do you have for listeners currently in a negative head space?
47:02 Would you caution designers thinking of transitioning into product or just go for it?
49:03 Should we only start a side project with an exit in sight?
49:55 What band/artist do you think is similar to your design style?
---
---
Bonus Episode Content:
Behind-the-scenes on my new mic, meeting Luke IRL, pushing creativity, the edit, research and more:
The "Don't Be A Dick Poster" I bought from Luke about 10 years ago: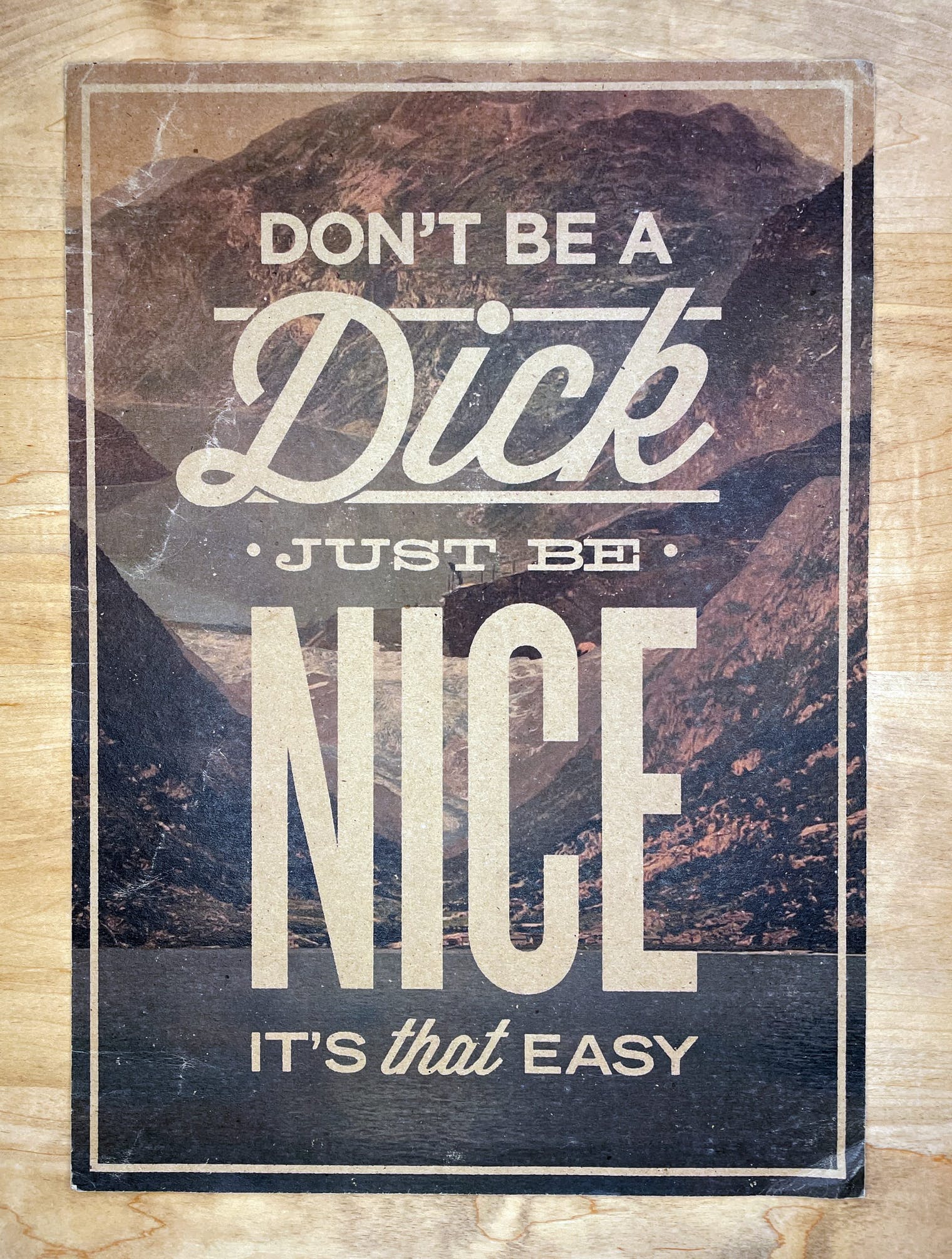 Signed back:

Featured on the Yo! YouTube Show: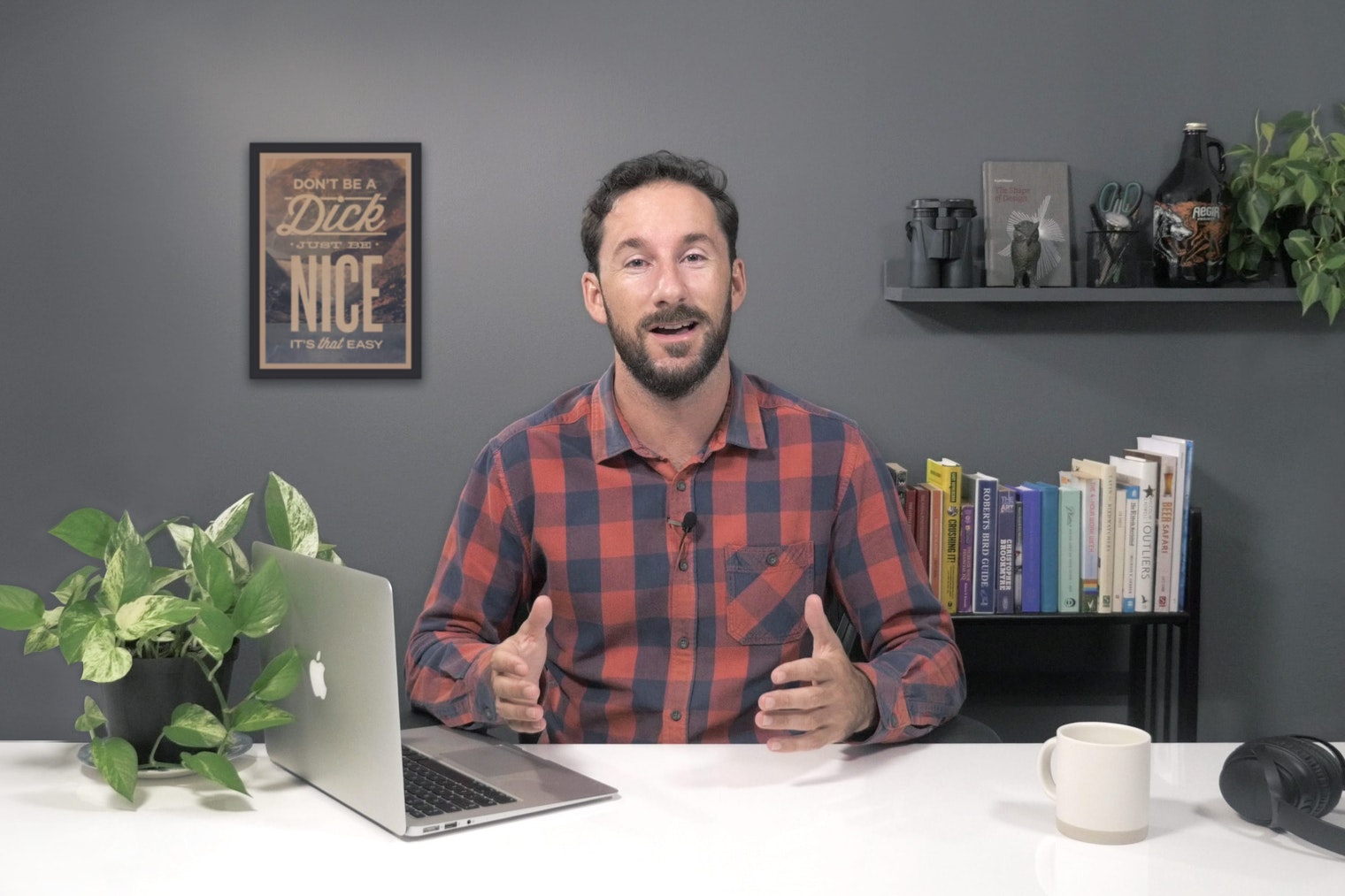 Episode Research: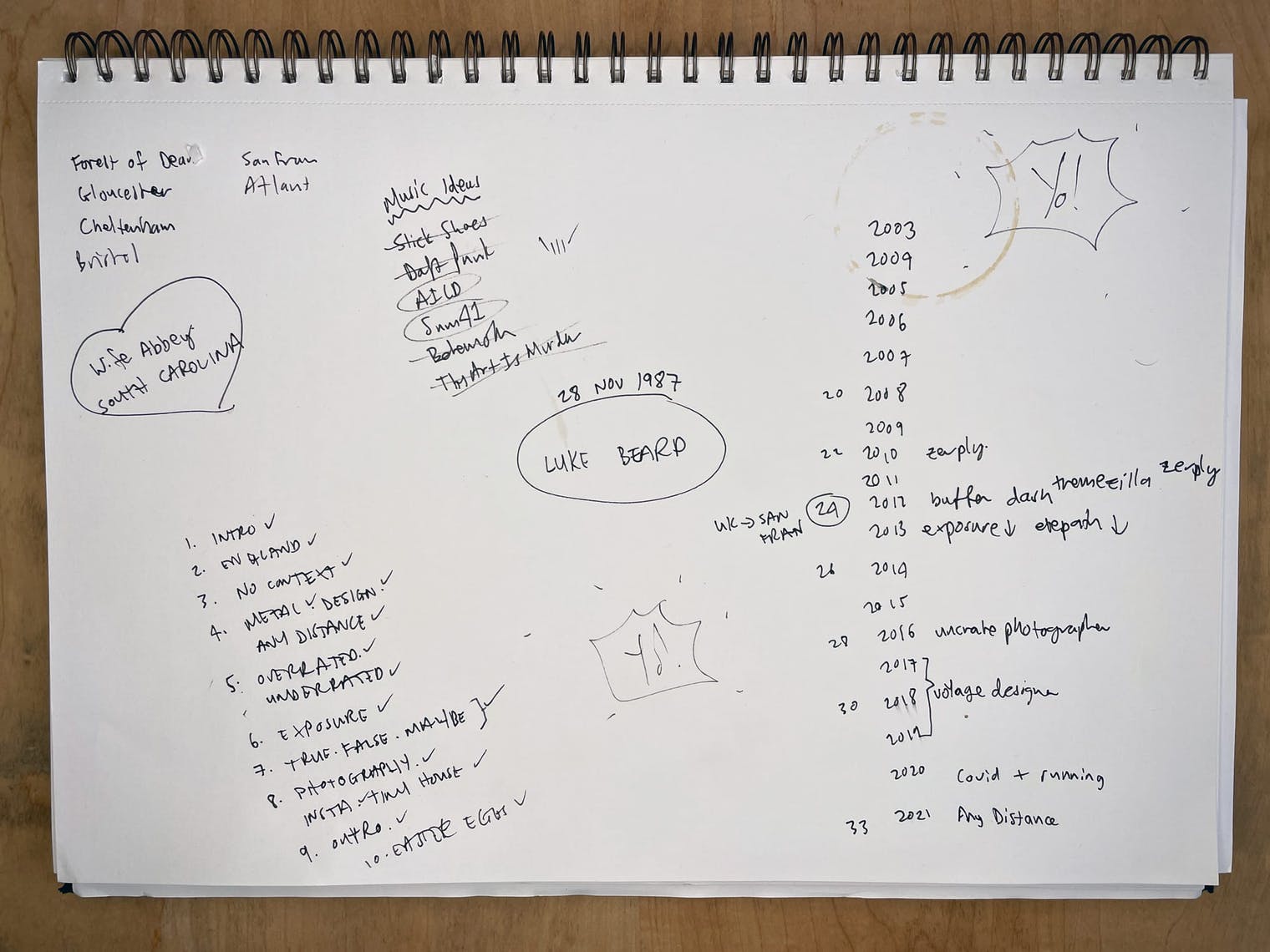 View Large
Our Cape Town meetup 28 Sep 2019:
Shout out @robhope for grabbing coffee IRL while I'm in Cape Town. Great dude building great stuff.

— Luke Beard (@LukesBeard) September 28, 2019
---
Transcription:

Rob:
Yo Luke! Welcome to the show, my man.

Luke:
Hello, Rob. I'm really glad to chat with you after all this time. We've had this on the cards for a minute.

Rob:
So you are one of the few Yo! Podcast guests I've actually met in person. Thanks for coming to Africa, man.

Luke:
Yeah, it was a client gig, but it was a very pleasant surprise to be like, oh, Rob is here, I could have a coffee with Rob, and then we actually saw each other. I think you're my furthest away internet friend I've ever met in person. So, we're friends...we're friends now.

Rob:
Did you visit during the water shortage, or was that the electricity load shedding, or was it both?

Luke:
I wasn't aware of either. We weren't...I was on, like, a press trip for AC hotels, and like, they didn't mention anything about either of those seemingly infrastructure disasters happening at the same time.

Rob:
I think you might have dodged both, dude. It's like, brilliant timing.

Luke:
Oh, fantastic. Yeah.

Rob:
So, hailing from Forest of Dean near Gloucester, to San Francisco at 24, and now settling quite nicely in Atlanta, do you miss England?

Luke:
My usual thought process around this, when people ask, is that, like, I'm from a very kind of quaint, beautiful little area, so like, I miss the...I miss what it looks like, and kind of the density of, like, the forest. And like, it's called the Forest of Dean because it's just a big chunk of pretty good forest. And now I've been living in, like, metros for coming up on, like, eight years straight, so I miss that. But at the same time, there's not a whole lot to do there, outside of the kind of, like, ruralness of it. Like, there are just a bunch of towns stuck together, with some stuff, but...I miss my folks and stuff, and my mom and my sister and everything, but I can't say day to day I miss it a whole lot. But occasionally, like, I'll go home and spend, spend a couple days in Bristol, which is, like, a city I would probably live in.

Rob:
In a past life, I found myself passing the Royal Ascot races, and everyone was arriving in suits, with these feathered fascinators, as they call them. Did you have any of that fancy stuff down at the Cheltenham horse race jumping?

Luke:
That's actually...that's a very good, well-researched point for you there, Rob. I feel like this is "Hot Ones," I was like, how did you know that? Yes, Cheltenham has a racecourse, so there would be racecourse season or whatever, where people would show up in their full attire, with the fascinators and stuff. But again, that just wasn't my real...really my scene, I'm going to say. But if you were downtown...downtown in Cheltenham, you would...all the pubs and stuff would be filled with people looking extra fancy that day. It was more like...I don't know, it kind of felt like posh people Halloween, in a weird way, but I don't know. Sorry.

Rob:
That's a good way to put it, it looked exactly like that. So "Yo!" started off in February 2018 as a YouTube show, and what most people don't know is in the backdrop of that show was a poster designed by you, saying "Don't be a dick. Just be nice. It's that easy." Is this still your life's mantra?

Luke:
Yeah. I was actually showing someone the screenshot of your podcast last night to be, like, I made this poster maybe 10 years ago or more, and it's been in the background of Rob's videos for, like, the whole time...yeah. Yeah, of course, it's...I don't know, the more I deal with customers, and the more I deal with, like, being a business person, like, it's ever-present, just being okay at worst, and being great at best, and kind of, like, taking the high road is the, seemingly, way to succeed. So yeah, it's absolutely kind of something that's on my mind. But at the same time, it's funny because that poster got ripped off by, like, a Chinese, like, apparel company, and like, ended up on, like, sweatshirts and lighters and mugs and things like that.

Rob:
Wow.

Luke:
So, I just think it's a funny come-around, that the poster about not being a dick is, like, oh, man, you were, like, a total dick about it.

Rob:
You know what, fun fact, I actually never got it framed on my wall, and I used Adobe Premiere to overlay the JPEG in all 50 episodes.

Luke:
Oh, my God, Rob.

Rob:
And sometimes you can see my arm go behind the print. It's so crazy.

Luke:
That's absolutely incredible. This is my favorite story. This is, literally, my favorite print story now. Thank you for telling me that. That's wonderful.

Rob:
So 10 years ago, I've actually got it...I got it stamped, 58 out of 100. That was a nice touch, by the way, the little signature at the back.

Luke:
It was fun doing prints. I used it...yeah, I did, like, thousands of prints, of like, the goofy-ass, like, Ron Swanson quotes, and all that kind of stuff. And then I just stopped, and I haven't printed anything in about...probably close to a decade, also. So, but yeah, the prints were, like, a kind of odd, kind of entrepreneurial thing for me as a designer. Like, I was always, like I guess, a service businessman, like do the thing, design the website. But yeah, selling stuff that I made was, like, really cool back then. And thank you for buying one, Rob. It was so nice of you.

Rob:
Cool. I guess it was a cool, creative outlet. So, let's kick things off with a quick intermission I like to call "No Context." Simply shoot back either of the two options I give you, no context given, and no context needed at all. Have you got it?

Luke:
Yes.

Rob:
Star Wars or Star Trek?

Luke:
Star Wars.

Rob:
Machine Head's Robb Flynn or Slipknot's Corey Taylor?

Luke:
Slipknot's Corey Taylor. Flynn's a lunatic, no.

Rob:
Wes Anderson or Tarantino?

Luke:
The juxtaposition, Rob... Hmm, Wes Anderson, man...fucking, good time movies.

Rob:
This is great. Great. Tilda Swinton or Helena Bonham Carter?

Luke:
Bonham Carter, obviously. Yeah, someone needs to give her some sort of, like, pedestal. She should live in more movie prestige than she does.

Rob:
Coffee or tea?

Luke:
Coffee.

Rob:
Canon or Sony?

Luke:
Canon. I don't think I've ever owned a Sony camera. I don't think I've ever...I've maybe used one, though, like, twice.

Rob:
Sketch or Figma?

Luke:
Sketch. I don't know how to use Figma.

Rob:
Michael Jackson or The Weeknd?

Luke:
Prob-...Michael Jackson, incredibly problematic. No, Weeknd's great. I like...he's our generation's Michael Jackson, so I will happily lean into that.

Rob:
I totally agree with that. NASA or SpaceX?

Luke:
I mean...that's a difficult question. NASA from a public...public impact perspective.

Rob:
Okay, and lastly, As I Lay Dying's "An Ocean Between Us" or "Shadows Are Security?"

Luke:
"Shadows Are Security," because I think that was my first record I had from them when...that I bought on CD.

Rob:
How good is that riff on "Confined?"

Luke:
It's great. It's great. It's like, one of the few I learned outright, and I can still kind of noodle it now, after not really touching guitars for...

Rob:
So at this point, some listeners just kicked over their chair, and started a little circle pit in their offices, while others turned it down and said, what the fuck is this? What did you just hear?

Luke:
This very vivid memory of being in my childhood bedroom, before I moved out, like before I left the nest, per se. I was at home 'til, like, 17 or 18 or something like that. So yeah, that's a very...it's like learning it on this horrible Jackson guitar I stole from a friend, and then moving out. I think that is very, like, visceral memory in my mind.

Rob:
So, you once told me it's one of your favorite tracks, and it's no doubt a classic. But going a bit deeper, the production, isn't up to scratch compared to their newer stuff, but I feel like quality isn't the decider here? It's the timing in your life, like you said. Is this simply a brilliant song arrangement, or is it that radical blast-beat riff combo?

Luke:
This podcast is now purely about riffs. Sorry, everybody. I don't know, I mean...I don't know. I think it's also, like, the timing component is more so than either of those things, for me at least. But, because I remember it, so it has a particular impact. Like, crappy songs can be really good in your brain...but this is not a crappy song, obviously. Yeah, I don't know, the production is fantastic all the way through the album, which is great. But it is the...it is the very specific BPM on that that, like, runs all the way through, which is fantastic, and I run to it, like, a lot. It is an incredibly good, like, perfect-paced song, which is on my perfect-paced playlist, which is just full of garbage, and just like, straight, just like, I'm going to hurt myself if I keep this up. But it is..it is, it's fantastically fun, if you just, like, lean into it.

Rob:
Sick.

Luke:
That's what I like about kind of aggressive music in general. It's like, it's not...it's not about yelling, and like, death and whatever. sometimes literally, that's what it's about, but it's more so just, like, kind of fun and goofy. But yeah, so now I'm thinking about it, I haven't thought this much about that song for a long time, so as soon as we're done here, we'll play that very loud.

Rob:
Dude, I'm enjoying this, dude. Should we break into a quick thrash metal guitar solo?

Luke:
Please, please do. Let's do it.

Rob:
So, speaking of metal, subjective as metal is, it's still fairly commercial as a genre, but they are way darker subgenres you and me both like to listen to, like Behemoth and "Thy Art is Murder." what draws you to this flame?

Luke:
This is a very good question. I don't know, I've always been a fan of, like, the wall of noise kind of aspect, like, in a way that you get a lot of work done in coffee shops because there's some, like, ideal, like, decibel level or something like that, that works for people's brains. Like, I have a non-scientific assumption that, like, I have something like that, where like, a wall of noise will help me work better, and like, I work to, like, the loudest shit possible all day. Obviously not...there's days where I definitely don't. But yeah, there's something...there is something about, like, musicianship at that scale, almost, like the wall of noisiness, where like, it's like, it's quite beautiful in its own way. But obviously, everybody's not going to get that, but at the same time, like, I really dislike the Beatles, so...so it's whatever you want. But yeah, so specifically on the, like, kind of much, much heavier stuff, it's just like I...there's something very therapeutic about it, for me at least. And I've seen some of it live, and it's like, the production of it live is also ridiculous, right? Like...yeah, I saw Slayer live at Download, like, a million years ago, and just...like, they were like, just drinking tea on stage, and that was really fun, and just, like, a really kind of funny contrast. But I've also seen, like, Belphegor live, and they get the whole...they dress the whole thing, man, just like people walking around in plague masks, I'm like, this is...

Rob:
It's theater.

Luke:
Yeah, this is theatrical, and it's like, really fun to just consume.

Rob:
Thinking about design, why do you think good design is way less subjective than good music. Like, everyone knows when a design is decent, but some people cannot stomach Slipknot, or even Justin Bieber, they must just turn it off.

Luke:
it also depends on the context, like design is what is also important. I think, like, historical context is important because...the iPhone changed how people consider software, and previously it was like, I don't know, like Windows, and that kind of generation of what you touch and feel and do things with. But how does it apply to, like, album artwork, etc? So I don't know, it's always tricky, because like, people's brains are kind of...they learn early on what they consider good, and it's mostly wired into taste. So, when you have...if you grow up in a household that is, like, historically tasteful, then you tend to appreciate design and music a lot more. But at the same time, it's like, definitely something that can be learned, from a muscle perspective. Yeah, I don't know, that's a tough question because it's like, yeah, well, design of what is probably always my biggest question. But there's obviously...I said it recently, at any distance, there is a certain degree of clean, and kind of lines, and kind of the things that people's brains, that like, the kind of brainstem appreciates that you can always do. But when it gets into kind of more metal, it's like, I don't know, there's more characteristics to influence people with.

Rob:
It's interesting, because you talk about, growing that muscle, and when it comes to super heavy music, the more experienced you are within those genres, the more you can hear. Like, you can hear layers that someone else can't hear, and then you really appreciate the little subtleties that these guys are adding within the chaos.

Luke:
That's a great point. Yeah, exactly. Yeah, I mean...yeah, and kind of I always go back to my skateboarding days, about once you learn how to skateboard, you like, seed things differently from, like, a ledge, rail perspective, etc., things like that, and I think design, or any subjective opinion about something becomes more detailed the more you know about it. So passive design people versus in the mix, in the...like, in the thick of it design people versus people who understand music and appreciate music, like they're... I have friends that appreciate music ten times more than me, and I'm like, yeah, that's your thing. I'm glad that you're able to tell me these, like, ridiculous little kind of things that I would never notice. My friend Leigh is...from back home, is one of those people who... I remember sitting in his car and listening to Daft Punk...it was in the news yesterday, listening to "RAM," and like, him just mentioning all these, like, bass things I had no idea about, and now I think about them all the time, so... But yeah, I agree, there is a certainly a layers perspective to the whole thing.

Rob:

Since this podcast is ad-free, I thought why not use some of that classic ad space to promote my guests' products? Any Distance is a workout story designer, you simply install the free app, and set a distance goal along with a date. The app then syncs with Apple Health, Strava, or related services to keep track on how you're doing. After each workout, you can construct a beautifully designed goal progress graphic, then upload it to popular social platforms. Head over to anydistance.club to get involved, and start setting yourself new personal goals.

Incredible. So, let's rap about your Any Distance app, that you coined as a workout story designer. It seems that you had a total blast working on this.

Luke:
Yeah, so...yeah, it's just it's one of those weird ones that, like, I wouldn't expect myself to design this pre-COVID. Yeah, no, it was a lot of fun. I haven't done a native mobile app for many years, and especially one that was not, like, just iOS only, I've kind of typically worked in the React Native world when I have done stuff. So yeah, I had it on my brain all summer, and then kind of when I actually put it out into the world a little bit after getting it down into some pixels, people were excited. So, it was...I don't know. When you have an idea so fleshed out in your mind about what you want it to be and how you want it to work, it's...yeah, it's joyful to work on, especially if you team up with someone like Dan Kuntz, my developer on Any Distance, who just, like, understands the whitespace in between your ideas, from a development perspective. So like, he... I like, would give him a Sketch file with most of it in, right, but there's still, like, a lot of nuance not there, interactions, things like that. So yeah, Any Distance has been...yeah, it's been two, two and a half months, basically, of just, like, solidly working on that in kind of, like, spare time/maybe too much time. But it has been...it's been, yeah, it's like, kind of...I don't know. It's almost like when you work on one thing for a long time, and then you get to, like, taste something else, you're like, oh, yeah, I do really enjoy software.

Rob:
And how's the response been?

Luke:
So far, so good. it's certainly not, like...it's not like a pickup tons of press kind of product, it's still kind of, like, quasi-nichey in that kind of way. But yeah, I think we're, like, 4,000 downloads, and maybe 2,000 people in the beta, so it's used every day. And the most impactful kind of response, at least from us, has just been, like, people being really motivated, and being really happy with kind of it's giving them an excuse to get outside, or like, I saw my friend use this, and I'm like, oh, I just...I've had this problem for years, or whatever. So just the pure, like, inbound, like, positivity has been really good, and the reviews have been really nice. And it's not even me, like, facilitating reviews, which is nice. It's not like, hey, go leave us five stars, it's just people leaving five stars. And yeah, we've got to talk some really cool people, like we had an early chat with the folks at SnapKit about, like, how we put Snapchat into it, and it's just, there is...it's like some days it feels like kind of lightning in a bottle, and some days it feels like this really cool thing that could be a small thing or a big thing. So, it's...for again, launching an iOS app with just two people, and spending...I think we spent, like, $300 total on just, like, creative stuff, but we've never... we didn't do any pitching, we didn't do any ads, we didn't do anything on the, like, typical growth front, it's just put out a good product, and see how people respond. And so far, thankfully, very well.

Rob:
So, I've run 100 kilometers since installing the app, and I can honestly say it was a delight to use. And it also aided the progress and motivation of actually getting to the milestone? And also, I've been thinking loads while running, how you've essentially created this new healthy channel in your life, pouring in amazing visuals from people getting healthy, getting outside. this must have a lot of value over dollars that could be coming in...

Luke:
Well, first off, thank you very much for saying kind words. That's always appreciated. I don't do this... it's always crazy to me when anybody likes anything I do, so it's always nice. Thanks, Rob. Yeah, there...that's kind of this, like, really interesting part about working on it, is that, like, it doesn't have to cost...it doesn't cost us anything to run right now, which is really cool, apart from our own time, right, but that's kind of... I don't know how to value that. Because Apple gives you CloudKit for a database, and kind of the App Store is, like, it's free to list on it, etc. So it's been really interesting to work on something and be like, what's the best version 1 experience we can put out, listen to feedback, and then think about what people actually would pay for. And we've had a handful of emails that are like, can I pay you for this? Like, can I subscribe, can I tip you..like, what is going on here?

Rob:
Wow. How's the validation?

Luke:
Yeah, exactly. So, but we have a bunch of ideas of how to, like, put some kind of nice in-app purchases in it, and kind of more creative tools that you can buy. And then maybe later down the line, like, some sort of subscription thing, if we do kind of more into training, and kind of recording of activities. But right now, we're just...again, like, we're just kind of like parsing where the first week, because...and the world just happened in the first two months of actually, like, people using it. Yeah, it's just...I don't know, it's just really special to work on something where I'm like, I don't have to, like, turn this into a business just yet. I'm like, it can be, by all means. Like, it's always on your mind. But it's not... I don't have to think about the how right now, it's just, like, putting out actually enjoyable software people get a lot out of.

Rob:
Wow. that's a healthy headspace to be in. And there's lots to be said about using your own app daily leading up to a launch. Would you go as far as saying if you're not using your own product nowadays, don't bother, as it won't have that X-factor?

Luke:
Hmm...it depends on the context. Like, you can solve problems that you have been near, or like, you're kind of...or you're familiar with, without using it, especially like, working in enterprise tools, or the kind of design stuff I've done. Like, you...I don't know, it's a tougher question. Dogfooding your own stuff is, like, the best way to make a really good product, but that's not...that wouldn't stop you making a good product, if you have the kind of skill set to build good products, it just probably would, lack a certain finesse, I think. Especially from a design perspective, like, you could be...no, hang on, let me backtrack that. Like, kind of Dan, the developer on Any Distance, is like, he rides his bike, he's not like, particularly a big runner, he's not... he's not exactly, like, going for a thousand miles a year, like I am this year. But he kind of, like, understands the problem, and wants to build the great solution for it, and just being near kind of my brain, it is enough to kind of, by proximity, make him good at building this. So I don't think it's, like, a non-starter if you're not going to use the thing you're building, but I think you should definitely have, like, something influencing you in your orbit. Especially, again, going back to enterprise tools or business stuff, like money can be made, but you might not ever need, like, a... cloud CSV importer, or something like that, but you can still build one.

Rob:
Yeah, totally. Well said. So, I feel... the beautiful typography is a big differentiator to Strava and Apple Health, and I wanted to know, are you conscious about overlapping features with Strava and Apple? Like, are you putting a lot of effort in trying to create something completely different?

Luke:
Kind of...yes and no...I don't know. We were just talking about this this week, it's like, well, what does Any Distance look like in six months type thing. Apple Health we don't really have to worry about. Like, Apple doesn't really...Apple doesn't really care too much what you do with the data that comes through Apple Health, more so just, like, that you protect everybody's privacy, which we're like, super hard on. Strava, on the other hand, as soon as we start kind of replicating...or not replicating, we're doing our own cut of recording activities or something like that, they'll just turn our API off. So, we have contingency plans for all this kind of stuff, if we decided to go those routes. But right now, we're basically, like, we built a sharing tool...we've built the kind of creative sharing tool that should be on top of any activity recording software, like Strava or Apple Health or Runkeeper or Peloton, etc. So we're, like, fixing...we're like, solving one specific problem of, like, a very big spectrum of kind of health-related activities. But the more we get into it, and the more people, like, give us feedback about what they want, it's like, very curious of where we could end up going. Like, we could do our own kind of athletic-based social network, or we could do our own training, like I mentioned, or we could do our own recording. Apple actually has, like, a bunch of cool APIs where you can...they kind of, like, do the legwork of recording activities, distance, time, heart rate, etc. like that, all like, on the Apple Health side, which is really interesting. So right now, kind of everything's up for grabs, and that's, again, one of the exciting parts of working on something like this, where you kind of, like, get enough...you kind of get the brand and the positioning right, and you get the first version right, and then there's a lot of feedback that comes your way about what people want from it in the future, so you can kind of definitely pick which...kind of choose your own adventure type thing. It's like, not Field of Dreams per se, because we're not making, like, any money from it right now, but yeah, it's definitely something I want to keep exploring. This is not going to be, like, a tweaked version 1 forever.

Rob:
It's like a creative outlet for you.

Luke:
Oh, for sure. it's also just a big part of my...like, I don't know, my passion is now, like, all I did is I have been running really a full year, and I've completely changed the shape of my body. And I'm happier than ever, which is, like, really cool.

Rob:
Yeah, brilliant.

Luke:
And like, anybody can be any shape they want, by all means, and I'm trying to...that's why that's why it's called Any Distance, and to promote that you can do anything you want. But my personal journey, has been greatly impacted by working really hard on kind of this...kind of myself, and then finding a problem and solving it, which is cool. So yeah, we'll see, right now, is the big question. Right now, we're still having tons of fun, and I don't have to worry about too much.

Rob:
Brilliant. So, take me on a typeface journey. How does a Luke scratch Alta typeface in his beard? What is your process?

Luke:
Oh...I'm not, like, any...look, I'm not incredibly thoughtful about this stuff. I typically just, like...well, choose the component, and open the font selector, and press down until I find something I like. Like, I'm sure there's plenty of people who work like that.

Rob:
You're human.

Luke:
it's...I've always been a fan of kind of the wide Sans Serifs, and like, that's the main kind of...I forget exactly how to pronounce it, but the wide Sand Serif that is kind of like the core brand font for Any Distance in the metrics, and stuff like that. It was just, like...I don't know, there's something, hopefully, not too, like, cool right now about it, and I hope, like, it just still looks kind of rad in three or five years, but those kind of, like, wide numbers have always done it for me. And the rest is actually SF Mono, which is, like, shipped with Apple's devices. Because I think SF is, like, really, really nice.

Rob:
It is.

Luke:
Yeah, yeah. So yeah, it's also just, like, complementary options to your, like, your main player, from a typography standpoint. I always work down from, like, picking something big and...big and bold and silly, or kind of messed up, for like, how people first see you, and then kind of the complementary stuff kind of finds its way after that.

Rob:
So I'm going to speak about the Instagram later, but you seriously smashed the building in public...the building in public side of things. Was any of this pre-launch strategic, or were you just frothing?

Luke:
Hmm...that's a good question. I typically am, like...I don't know, I'm like...I'd say I don't feel great about my own stuff almost all the time, but I don't know, something about, like, the Any Distance stuff felt right to put in public. Because either I was going to build it and scratch my own itch, or like, someone else would see and scratch it, and I'd be like, great, because the thing I wanted exists. But it definitelt...it definitely helped. I don't think that we would have had even remotely the groundswell of support, or people wanting to try it or give us feedback without kind of the constant sharing during the beta about it. And it also just kind of lead to a lot of refinement very quickly, and just the feedback of what people wanted right there and then versus kind of, like, the bigger ideas that people were asking for. So, we were able to launch with a really tight version 1 because, we had basically been...we had basically had a production-ready version in beta for about a month. But it was interesting to keep sharing, honestly. Like I said, it's not typically the way I do things. I don't know, again, maybe it was just an anxious thing. But it was...I'll keep doing it. Like, I don't think I will...I don't think I'll stop anytime soon. Thanks...okay, good to know, Rob. So yeah, I'm planning on sharing the kind of, like, longest week stats after tomorrow's stuff comes in, just like, what worked, what didn't..I don't know, if anything, any particular press came, and kind of made any difference, and things like that. So yeah, I'm just going to share the whole journey because I don't really see why I wouldn't.

Rob:
So, tell me quick about those augmented reality medal plans you've been teasing online. They look ridiculous.

Luke:
Yeah, we built, specifically, a bunch of...just something like that. And I just, like, burped in my mouth, that was horrible.

Rob:
The good old edit.

Luke:
Yes, good old edit. Apple, we tried to play Apple's game a little bit, like, because, it's easy to build with them, and like, include all the technologies they like, like sign-in with Apple, Apple Health, etc. But obviously, they had a big push for AR, and I've always wanted to do something in it, and I thought, like, kind of the idea of the achievements, which I'm, very excited about, like the whole collectibles part, it would be cool to kind of put that into 3D, and then into AR space. And it's not as... it's basically, like, super simple, once you have a model. I had my friend A.K., who used to work at...or I used to work with at Hipstamatic, help me kind of, like, figure out some Scene Kit stuff, and how to dynamically load on text to the medal. And then when, like, the actual achievements are out, when people are earning them, like, we'll get to the AR stuff a little more...a little sooner, so people can kind of, like, start having their medals, like, in front of them, or even, like, one of the ideas from the reachout to the SnapKit folks is, yeah, in the park, or like, you could put it around your neck type thing. So like, if you spin the camera around, we could do a bunch...we could do, basically, like a face filter, where an AR model of the medal is, like, around your neck type thing. So there's,, like all this, like, cool, kind of goofy stuff that we can do, that is just, like, hopefully, like, a lot of fun, and again, just like, motivates you to either keep up with your goal, or just go outside, or do anything you want that would maybe earn you something. And it's...again, just like, I think I'm mostly building this so I can do collectible medals, really. But the AR stuff will increasingly become more fun, once we're a little further ahead. But yeah, so far people dig the idea of being able to see their levels, and medals spin around on their desk, which is, like, yeah, of course, absolutely. That's cool as hell.

Rob:
It's amazing. So...okay, so let's break into a brand new intermission called "Overrated, Underrated." It's a direct copy of a fun Instagram Q&A Gary Vee has been doing. I'm going to give you a topic, a brand or a person, and all you need to do is quick-fire back overrated, underrated, or properly rated. You got it?

Luke:
Okay, let's do this. I'm ready. Go, go, go.

Rob:
Clubhouse.

Luke:
Overrated.

Rob:
Japanese whiskey.

Luke:
Properly rated.

Rob:
WordPress.

Luke:
Overrated?

Rob:
San Francisco.

Luke:
That's a weird one. I know so many people that still live there...properly rated.

Rob:
Vinyl.

Luke:
Underrated.

Rob:
The Apple App Store.

Luke:
Properly rated.

Rob:
Pour-over coffee.

Luke:
Underrated.

Rob:
Beards.

Luke:
Oh, overrated. So overrated.

Rob:
Post Malone.

Luke:
Underrated. Posty rules, Posty forever.

Rob:
Bring Me The Horizon.

Luke:
Underrated.

Rob:
Sobriety.

Luke:
Properly rated.

Rob:
Podcasts.

Luke:
Overrated. Sorry, Rob.

Rob:
OUch. Joe Rogan.

Luke:
The absolute worst. I don't know...there needs to be a bigger scale to, like, not include him. Terrible. No.

Rob:
And last one, Atlanta.

Luke:
Oh, underrated. Underrated. Always underrated.

Rob:
So, you're settled in the Atlanta life now, working on your main project, Exposure, where you're the founder and the CEO. How's the journey going?

Luke:
The journey has been going eight years now, which is, like, the longest thing I've ever done, from a work perspective. Yeah, no Exposure is...it's a small big thing, which people are surprised about. I often get people asking me how big is my team and things like that, and it's, ehh, it's like, me plus, like, a very compassionate and very lovely handful of collaborators. So, it's been...it's never been really calm until the last maybe two or three years. Like, Exposure's had so many ups and downs that I think I've lost count at this point. But the last couple years have been...I've spent a lot of energy calming the business, and reducing...I like to say reducing the surface area, basically, like, making it not complicated to run. And that's really, really, really paid off. Now I sleep much better, and I cry a lot less, which is really two big...two big wins. But from the journey perspective, we're definitely at, like, peak...peak kind of health. Like, the business is, like, very profitable. It's incredibly fortunate that it grows organically every month, even though I don't pay to acquire a single customer, churn is relatively low, given the size of the customer base. And it's kind of like...I don't know, I'm very fortunate that it has shaken out in this way after, like, just so much, like, garbage from my own terrible decisions, to other people's terrible decisions, to three-day outages, and all sorts of kind of crazy stuff that comes with running a business at this scale in a SaaS type way. So again, I think I'm just very lucky. I'm like, incredibly fortunate in many ways that this has happened, and I get to work on this, like, amazing tool that is, again, small bait. But its best is still yet to come, and like, I have so many plans for this year, and I have so many...so many just absolutely, astonishingly nice customers that have supported the business for...in some cases, like, eight years, at this point. And when someone subscribes, I can kind of depend on them to stay customers for a prolonged period of time, so it really helps me kind of, like, build the business. [crosstalk 00:35:28.136] just...I love this thing.

Rob:
Incredible. So, is it making enough... it's your little child, that's eight years old. Is it making enough revenue to live that Atlanta social life?

Luke:
I haven't done anything for, like, a year and a bit now, but I... Yes, it pays me a full salary, and benefits to ensure me and my spouse, and we pay a ton of contractors...not a ton, a handful of contractors to work on it in a great way. So yeah, it's definitely...it's definitely in a good spot for a lifestyle business. But I think in all the ways I've described it, it's more of, just like, a launch...like a diving board business, like, because it's already working, and it's already doing so much right that there's basically infinite opportunity to dive off and do something much bigger at any given point. But thankfully, I'm not under, like, VC pressure to grow it or die type thing.

Rob:
Totally.

Luke:
Like, this is very much a, like, grow forever business.

Rob:
And how big is the team? Just you...?

Luke:
Me full-time, and Josh Abbott, who's my, like, DevOps kind of backend engineer. He does all the engineering I cannot, which is good...because I love to break things. He's in New Mexico, he is wonderful. He's been working with me for about three years at this point. He's like, from a complexity standpoint, he's a contractor, but like, he has his own chunk of equity and things like that to work on the product. So, and me and him basically all the time, and then I have a grab-bag of other people with specialities that come in, and help me with security and performance, and some... if there's overflow from a product development standpoint, we work on that, I have, like, SEO consultants, and copywriting consultants and things like that. Like, it's very much, like, an orbit with Exposure. That's actually my little Slack kind of section, is called Orbit, and it's just like, all the people that orbit around Exposure day to day. But yeah, like, it's funny when people email me, and they're like, "Can I speak to your legal department?" I'm like, "Well, you can speak to me, and then I will ask my counsel." Or like, if there's something wrong... So yeah, it's always surprising, people think Exposure is, like, 40 people.

Rob:
But I feel like you are underplaying it, though. you've got some really good brands that are signing up, "National Geographic Spain..." you're always sharing these new signups...

Luke:
No, no, yeah, you're right. As I said, like, the customer base is ever growing, and increasingly more enterprisey driven, which is cool, like, because their challenges are different than kind of individual creators or photographers. So again, it's kind of like a smorgasbord of challenges to solve. But yeah, the "National Geographic Spain" has probably been my favorite one, in earnest, because when I first started Exposure, I was like, man, it'd be cool if, like, National Geographic used this at some point, and then like, eight years later, they have, like, five accounts for, like, various different things. So, that's really cool. Yeah, that's definitely one that hit the sweet spot recently, in terms of, like, happiness. But yeah, outside of that, just all the nonprofit's, and like, the United Nations Development Programme, I got to go to New York, and like, go in the UN building, which was cool, and like, talk to them about, the hundreds of accounts they maintain, and all the kinds of, like, problems they have, and bugs they have, but also just, like, how much it helps them tell the stories of the causes and the directives they're trying to get across. And yeah, and during COVID, it's been kind of watching universities and schools react to what's going on has been really kind of, like, cool, just like, the stories of them trying to reopen, or like, the precautions they're taking, and like, how it's affected staff and students and things like that. So, that's been a really cool one. But yeah, just the Exposure spectrum is just very broad, from a user base, so it's...anything you can find to tech-talk about is...or tell stories about is typically there. Which is again, I'm very fortunate that if you make a good tool, people will find a way to use it.

Rob:
So if I'm not mistaken, you've pivoted your narrative a couple times. I remember it being a place to, share photos, in story formats, and now it seems to be a great medium for brands and publications to share visual stories. Does this feel like Exposure is now on the right path?

Luke:
Kind of. I think it's always been, like, visual storytelling, from the get-go. But now it's kind of more matured into, like, a multimedia type thing, and like, video and audio are now included in the platform. And I think the premise of experiential storytelling being a big part of brand building has really played a big part in the kind of updates we've made. But it's not like...yeah, I wouldn't say it's like a massive departure, it's more just, like, refining what we kind of, like, broadly said at the start, which was...yeah, just like, do something meaningful with your photos. It's now more so, like, tell a meaningful story, and what happens when you have a tool that kind of supports you in that, and takes away all the hard work of laying out a story, and kind of, like, doing all the kind of media handling. It's like, if you just focus on the storytelling and be thoughtful about it, what happens? Which, a lot of brands are leaning into a lot. Especially cycling, we have a ton of cycling on Exposure, so it's always cool to see those guys.

Rob:
Yeah, I was checking out some rad brands there. So, you're essentially in the CMS game.

Luke:
Mm-hmm, yep.

Rob:
What's the biggest lessons you've learned since starting Exposure in 2013, that you wish you had known?

Luke:
Two things, I think. One would be to listen more. I definitely, in my naivety and egotistical, younger designer nature, didn't listen to enough feedback. I know that much. That was...I constantly think back about that, that I just missed...we just missed so much stuff, just from, like, kind of, like, not reading between the lines, or like, just listening at all. That really sucked. I think I listen a lot more these days. And the second would be actually, for like, an infrastructure thing. Like, the worst...the most painful part of the last three or four years has been, like, infrastructure-based. Like, we did a massive migration from, like, an independent server company to AWS, and just like, the scale the product was at with the amount of content, with the amount of custom domains and SSL, and like, just every infrastructure part you think of from a CMS perspective, from a hosted CMS just balloons very quickly. And that applies for, like, agony and price, so it just took years to unwind, like, a bunch of stuff that, like, if we'd just taken the time to spend an hour to think about where stuff might look like in two to three years, and make decisions based on that versus, like, price, or just like, whatever is easiest right now, because I could have saved, like, literally...what felt like adding years to my life in stress. And that's like, again, like, that's more like business operational stuff, but it's just taking the time to figure out, like, yeah, you might have to pay extra to make it suck less later, is really, like, a lot of my learnings. And now, like, pretty much the entire stack is, like, automated from a lot of different ways, and it's been really...it's been really calm. Like I said, like just going back, like, it's a very basecamp way of thinking, but like, I've tried very hard to make sure it's calm, and I could have done this a lot sooner if we'd just made the decisions earlier. So, something around that. It's just, like, think about...think about a couple years ahead, and you might save yourself a lot of crying.

Rob:
That's brilliant advice. So would you recommend trying to start something as big as Exposure is now with a partner, or just go this route you're going on now, and outsource a lot? Do you think a partner is vital to help, share the load?

Luke:
Again, it depends on what kind of product. If it's, like, technically driven, and...I don't know. I would say...I don't know, I've leaned into becoming more of a technical person, more technical of an engineer/developer than I ever thought I was, mostly by a necessity, because like, I wanted to do stuff faster, so I did it myself kind of thing. But no, I think like, if you're going to have a truly great software experience, a design-driven person and technical-driven person are required, and you both need to be very aligned...this kind of comes back to Any Distance a lot, of just like, what needs doing, in what chunks, and who's responsible for what kind of in that way. But...eh, I don't know. It depends. You can get away...you could...there's a lot of talent that is easily spin-up-able, from a developer standpoint, but I would always highly suggest finding a work friend, not a friend friend, to build stuff with. It's like, I know Dan some, I really don't know much about him outside of, like, this kind of, like, work relationship we have, and that works really well, because it's just complicated.

Rob:
You'd have to be nice to him.

Luke:
No, we're very nice to each other.

Rob:
I know.

Luke:
It's very...he's very nice, a very nice, little, young chappy. But yeah, I think, like, that's the dream workflow for me, is just like, a very capable, like, fill in the blanks type engineer, who is passionate about solving a problem very well, and kind of can just do what they do really well. And vice versa, kind of like, from a visual perspective, like, I get to design software which I think looks great, and can be implemented well. So yeah, it's...I don't know, launching anything is, like, 10X harder than it looks because of just, like, the amount of things you have to, like, compensate...not compensate, like, include, like, just to make it, like, worth anybody's time. But I don't know who said it, it's like the never been easier to launch something, never been harder to grow something, but it's like, increasingly harder to launch something also. So yeah, and from my perspective, yeah, to do it right, find yourself a technical work person, and make them your work friend.

Rob:
Nice. So, I want to break into a final intermission called "True, False, or Maybe." Simply shoot back either of those three, based on a statement I tell you. So, true, false, or maybe, no explanation needed at all.

Luke:
Okay, I'm here for it.

Rob:
You ready?

Luke:
Yes.

Rob:
America will not have a packed rock concert for the next two years.

Luke:
False.

Rob:
Webflow is the modern day Yahoo Geocities.

Luke:
Maybe?

Rob:
Atlanta Falcons was the first NFL team to sign up at Exposure.

Luke:
True. Yeah, it's true.

Rob:
You haven't shaved your beard since you were 13.

Luke:
False, I shaved it this morning.

Rob:
Running has changed your life for the good.

Luke:
Very true.

Rob:
Instagram is losing traction.

Luke:
Yeah, that...yeah.

Rob:
Okay. So, true.

Luke:
True, yeah. Yeah.

Rob:
You once helped design the original Buffer dashboard.

Luke:
That's so true. Big true.

Rob:
Designers should learn to code.

Luke:
Maybe.

Rob:
And last question, you're technically an Instagram influencer.

Luke:
Hell yeah, that's true. Give me all the free shit. Send it my way, I'll talk about it.

Rob:
So dude, with over 50,000 followers, are brands knocking on the door?

Luke:
Yeah, I guess...I don't try to facilitate this, and a lot of my Instagram kind of audience is just, like, from being around since literally the first day they opened. But yeah, no, it's a fun world to be in, and I've learned a lot, and it's kind of in the...it's in the orbit of storytelling and visual marketing, and kind of like, all...I don't know, it overlaps a lot of my...yeah, a lot of my different interests. But yeah, no, I got to see you because of, like, influencer stuff [crosstalk 00:48:11.420]

Rob:
Yeah, it got you to South Africa, right?

Luke:
Yeah. Yeah, absolutely. And it took me, like, two days to get to South Africa, to have coffee with Rob. Yeah...and yeah, no, it's very curious, and I don't lean into it that hard as some people I know, who like, it's their whole lifestyle. And I work very close with Fohr, who's an influencer ambassador marketing agency, and like, they're really curious, like, watch the whole economy of it. Like, I think it's fascinating, and like, there's a world...there's a world where this keeps happening forever. But I personally just kind of, like...I don't know, I work with stuff I find interesting, and I don't have to do the stuff I don't, which is again, a very fortunate position to be in. But I will happily talk about your tequila and whiskey, for the most part, if anybody wants to send me any.

Rob:
So you've been sharing behind the scenes progress on your little garden office shed, that we are calling from right now. It's been brilliant to follow, but tell listeners what you've actually got going on there.

Luke:
Yeah, since the start of the pandemic, I was working in my dining room because our spare room got consumed by my spouse, who is a therapist, so she's actually doing teletherapy in that room, which she still does right now. And yeah, it's just...I don't know, I didn't really...I didn't really understand how much I missed a desk, and like, just a stable working environment versus just, like, our dining room. And when I thought about maybe going to get, like, a private space somewhere, and checking out rent and things like that, I was like, this...I don't know, the math doesn't work out for me for renting when I know, like, I could maybe build something or buy something. So it was actually my mother-in-law who was like maybe get, like, an Airstream or something, I was like yeah, that'd be cool. So I hopped on Facebook Marketplace to try and find myself, like, a trailer or something. My friend Jeremy had done this over the last couple of years, so I was like, yeah, doable. But I just...yeah, I just stumbled on a kind of, like, a little company called Modular Dwellings, who...from Tennessee, who were basically building little, kind of black-sided, Nordic-looking cabins that are mostly timber, and like, incredibly simple frame, a lot of windows, and I was like, yeah, that looks like what I want, will it fit in the yard, could I put it in the yard? And I kind of just, like, went down that rabbit hole, and did a lot of reading about permits and pricing, and they were much cheaper than anybody else doing this. So yeah, it's...and now, I basically have a quite wonderful working environment, that is fully paid off, and I can move, if I ever move homes. Like, this thing is not pinned to the floor in any way, and I just literally lift it up and move it. But yeah, it's been a journey in the tiny house world, but I am, again, super, super grateful and privileged to have this, have this perfect little spot which I get to, like, hear birds chirping and stuff.

Rob:
It's been super fun, dude. Where do you draw the line between sharing, personal things like this, and even just fun, goofing stuff, and just being a professional Instagram photographer?

Luke:
That's a good question. Yeah, there's probably, like, two distinct personalities. Like, for me, at least, there's like, there's Twitter Luke, who's been, like, design Twitter person for, over a decade. So like, kind of I speak to that orbit of things, that's where, like, kind of business Luke lives, and business design...some photography Luke, but like, a lot more of the previous two. And then Instagram is, like, obviously much more visual, so it's like, where kind of, like, photographer me matured into that personality. But I, if I'm sharing, like, personally, like, I've toned it back a lot in recent years, just because, like, it's nice to have that space, I think. But I do...yeah, I'm not too, like, worried about what people think of me sharing my goofy-ass metal songs, or like, memes or screenshots of just, like, dumb stuff that we send to each other, because like, we're all just people. I saw a tweet that was, like, something along the lines of, like, when I realized, like, every successful person I know is just some guy, like, it changes your whole mindset. I was like, yeah, everybody's just a person. Like, whenever I've met these, like, people that I've admired for years, or like, CEOs of huge companies, they're just, like, regular-ass people, but obviously, depending on how much media training you have, you would never guess. And I think maybe at some point, depending on where my career goes, that would change, but right now I don't see the problem with just, like, being just yourself. Like, I adore being a massive goofball most of the time, so... And it just makes you more approachable. Like, I think it's fun. Like, the idea of, like, that I could help someone just by being weird, and then, like, being approachable is, like, really nice to me. And I get a handful of DMs a year where it's just, like, thanks for, like, being, like, seemingly a chill, normal human being, and I'm like, yeah, man, like, what else do you want me to be? Yeah, so...

Rob:
It's healthy [crosstalk 00:53:23.701]

Luke:
drawing a line, drawing a little box around your, like, hyper personal stuff, or things like that, or things that you probably don't necessarily need to, like, put on the internet is helpful. But yeah, that's not to say, like, I don't talk about personal stuff, and my immigration journey, and like, living in America, and things like that. So there's plenty to chew on, but personally, you just kind of...yeah, you just draw the line around some things., but otherwise, it's just, like, unfiltered idiot.

Rob:
Gotcha. So...no, I mean...fuck, I'm having a laugh from the other side of the pond here. But okay, a few more questions, just a few more, winding down. you've definitely got an eye for a good photo, looking at your Instagram feed. How would you describe what you look for when you're taking a shot?

Luke:
That's a good question also. You're really good at these questions, Rob. I don't know, I try to create pockets of little, kind of like cinematic stuff. In the recent years, I've tried to, like, not necessarily tell a story, but like, leave enough space for people to kind of like, assign their own feeling to it, which is something I've tried kind of to manifest, I guess. that's outside of the brand stuff. Outside the brand stuff I just, like, try to shoot very commercially, which has helped me get a lot of clients, and things like that. But like when I get to shoot for myself, I'm typically just...yeah, I'm like, what would this look like, letterbox in a big screen, but not...more so, like 16-by-9 on the phone, but...yeah. And that's my kind of favorite spot, and my unabashed, just like, shooting for myself typically falls into those kind of big moments that look...from small things.

Rob:
great answer, dude. So winding down, I want to go a little darker. You mentioned on another podcast, as COVID started you found yourself drinking a touch more, and mental health sliding. Fast forward to today, and you're in your best shape of your life, you just had a great app launch, Exposure has traction, what advice can you give, your podcast listeners out there, that are currently in a dip right now?

Luke:
Oh, God...that's not a dark...necessarily a dark thing. But hmm, that's a good question. I will kind of hark back to my spouse, wife, who is a therapist, and I think...something that...there's a principle called systems theory, where it's like, the way everything is connected, and the way it affects you. It's kind of...that's been on my mind a lot during the, like, seemingly sufferable times of the past year and a half. It's just like, why...what is actually on my mind to cause me to have a negative impact on my own life? So I'm sure the pandemic is obviously, it's a very special stressor for many people, and not everybody is having a great time, by all means. But yeah, I'd say, like, the understanding of where the negative feelings come from in your own life can be traced back. Like, put a...kind of, like, write it down. Like, if you feel sad right now, like, what was happening this week, and like, okay, well, I'm thinking about work, I'm like, okay, what specifically about work are you thinking about, type thing. So it's like, I don't know, giving, yourself some time to just, like, walk back through, like, what might be really bumming you out has been really helpful for me. And also just go outside. Like, I know not everybody can, but if you can, just try to just walk around. Like, all I did for the first part of the summer...or spring, rather, is just walk for two hours a day. Again, like, huge privilege that I have the time to walk around for two hours, but all I did was, like, find some podcasts of something I was interested in, and walk. And I'd walk in a big loop for hours and hours and hours and hours, and that really helped, honestly. It just, like...yeah, your mind and body are both connected in that way, and you can get a lot out of just, like, feeding both of them at the same time. It sounds like a very ridiculous thing to say, "Go for a walk, listen to a podcast," and like...but kinda. Like, sometimes it'll do you good. Listen to this one. So yeah, it's a tough one, because obviously, not everybody's struggling with the same thing. But it's finding out...finding out what, in particular, it could be, could be challenging you this week, that month, this year is one of the easier things to focus on. At least in my experience.

Rob:
Good answer. Great answer. Okay, second to last question, quick. You successfully transitioned from a salaried designer to a full-time maker of your own product, that inherently involves numerous things outside of design. Would you caution designers thinking about transitioning into products, or advise them to just take the bull by the horns, and rock and roll?

Luke:
Yeah, I still don't know everything, and I often have to, like, remind myself about, like, how a convertible note works, and things like that. So I would, again, and this kind of harks back to the partner stuff, like, I was fortunate enough to work with Kyle Bragger at the start of Exposure, and learn basically, everything in the first couple, three months, and then concedingly...consumably?...yeah, kept doing that over the years. Yeah, it's not easy. Like, running a business is, like, it's the iceberg meme, it's like, you only see the top of the iceberg when it comes. But thankfully, like, there is so much tooling around, like, making that easy now that it's actually not too bad, but you still need to fundamentally understand things so you don't basically screw yourself. Because...it's almost like...I don't know, starting a software business is like, kind of like low risk in a lot of ways, but at the same time, like, once you're further along, if you didn't do...if you didn't pay attention kind of at the start, you could end up...and similarly with my infrastructure answer, it's kind of like from a business operations perspective, if you have unwind taxes for two years, that's like, not going to make you want to work on the business, right? So it's about this kind of, like, signal versus noise on a distraction front.

Rob:
Right. Yeah.

Luke:
But there's resources everywhere. Like, that's also the fun part. Like, all your favorite creators are probably, in some part, trying to teach you how to do what they do, or even, Mark Cuban on Masterclass, or whoever is doing that, like, there's a lot to...there's a lot to feed your brain with, if you do want to think about getting started with it. But you shouldn't take it lightly at all. Like, even if you're, like, not responsible for it, like, still know how it works. That's like, really important. Like, you should not...you should not ever just say things and not understand them, from like, a business operational and ownership perspective. Like, I made that mistake for many years, and that was...it just ended up screwing me. So yeah, make sure you know what's coming out of your mouth.

Rob:
What about only starting if you can have a vision of an exit? Like, do you know how you want this to end?

Luke:
some people definitely do. Like, I...I don't know, I'm kind of, like, a week to week person a little bit. But I think you should...the exit should be wealth, in terms of, like, your own happiness, and like, what would actually make you happy? And like, the fact that, with Exposure, it's like, a very calm business, and I get to work with very cool clients, and build a product I love, and get a lot from it is all part of, like, the wealth perspective, from my opinion. And like, I'm not, like, fuck you money by any means, like, right? But like, I have a lot of freedom because I've worked hard on building a particular type of life that I wanted, with infinite opportunity to make it bigger or smaller. So, exits are...exits are relative. Like, if your exit is have a nice life, then work on that. That sort of applies to everything, yeah.

Rob:
Brilliant answer.

Luke:
But yeah, it's...again, but also, maybe you're in a situation where you've built a business before, you've been very close to an exit, and you know that it's possible, and things like that. Like, working in technology is kind of like a choose your own adventure, again. But personally, if you're starting a business, you should think about kind of where you want to be personally, or you and a partner should want to be personally in a couple years, once you've got the initial version out, and then that will hopefully guide you through there.

Rob:
Excellent. So Luke, thanks for chatting with me, man. Okay, for...I'd like you to step out of humble Luke's body for a second, and tell me what band or artist do you think your design style represents?

Luke:
That a ridiculous question, Rob.

Rob:
I know. I know. And I feel like you'll never be able to answer this.

Luke:
I will literally never be able to answer this. I don't know, I exceptionally like what Joji has done, from going from, like, internet meme man, to like, exceptionally good artist. So like, I like his journey, and I think he's, like, very, very good. So, something around there. I think he's got a really fun story of just being, like, clearly himself, and I think that's, hopefully, where I would land from a legacy perspective.

Rob:
Luke, thanks for chatting with me. Just for you, I'm going to end with a cover of "The Darkest Nights," by As I Lay Dying.

Luke:
Amazing.

Rob:
Where can listeners follow your journey online?

Luke:
I'm very googleable at this point, thankfully, but I'm @lukesbeard everywhere, Exposure.co., if you want to do some storytelling, anydistance.club if you want to share some of your activities. Come, give me a DM, if you want to chat about anything that we've talked about here. I would love to hear from you, even if it's just to say hi. But really, thank you so much, Rob. I truly appreciate you reaching out after all these years. You're a good one, man.
---