Meagan and Andrew Couldwell are a designer/developer couple currently based in Los Angeles, California.
Meagan Fisher Couldwell, originally from Florida, is a seasoned designer having worked with the likes of Change.Org, Twitter, Campaign Monitor and other leading startups.
Andrew Couldwell, originally from Yorkshire, has also spent years in the game, leading the design of Adobe Portfolio and tasked to build the design systems for WeWork.
Together they published the book 'Laying The Foundations', a comprehensive guide to understanding and implementing Design Systems.
We have such a fun chat discussing book publishing, working with newborn twins, design inspiration from Disney, crafting color schemes, what makes a good boss, and even squeeze in a couples quiz right at the end:)
Podcast artwork photography by Abby Cox.
---
Conversation Topics:
01:24 Meagan: Annual passes to Disneyland Florida
02:31 Meagan: What are the top activities you'd recommend for Disneyland first timers?
04:40 Andrew: Drinking at the Harry Potter Pub in Universal Studios
05:29 Meagan: Do you get design inspiration from Disney?
07:01 Andrew: Do you subconsciously flag design issues as you walk past or appreciate the behemoth that Disney is?
08:23 Intermission: No Context
09:29 Meagan: How do you get work done with newborn twins?
12:00 Andrew: What would you tell yourself in hindsight, before embarking on your book publishing journey?
13:36 Andrew: Why did you choose to publish a tangible book over Ebook-only?
17:17 Promotion: Yo! Friends Supporters Club
17:40 Meagan: Being the editor of the book, does this mean you "fixed it" for Andrew?
19:30 Meagan: How was it editing early books for Dan Cederholm (Dribbble co-founder)
20:22 Meagan: Being a designer, what makes a good boss?
22:00 Andrew: What book post-launch marketing efforts had the biggest ROI?
24:58 Andrew: What website components should one tackle first with a design system that will having the biggest effect?
28:06 Promotion: Yo! Podcast Soundtrack on Spotify
28:30 Meagan: New job designing at Faculty
30:20 Meagan: Would you recommend a face-to-face design career path over remote working?
32:23 Intermission: AJLKN water break
32:47 Listener question for both: Being a couple who are both designers, I'm guessing you must both be strong-headed. What do you do when your opinions clash? I'm asking this because my wife and I are newly weds are also both designers and strong-headed?
37:38 Intermission: True, False, Maybe
38:48 Andrew: Surfing in Yorkshire
39:40 Andrew: What keeps you going working on Club of the Waves since 2006?
41:33 Meagan: Where do you find your inspiration – online and offline?
44:22 Cameo: MDS for Yo! Podcast #013
44:44 Meagan: How do you come up a color palette?
46:46 Both: Are textures making a comeback in website design?
48:00 Intermission: Know your partner
53:00 Both: Where to follow their work
54:00 Outro Track: Razzmatazz by Jules Gaia via Epidemic Sound
55:55 Bloopers
---
---
Bonus Episode Content:
Wow, what a crazy episode to facilitate and edit. This interview also had the most echo/issues I've ever had and we landed up recording for almost 2 hours. Andrews mic died after 14 mins so they even had to share Meagan's headphone mic ha! But the overall balance of laughs vs insight is perfect in my opinion – overall really proud of it.
Here is a behind-the-scenes shot of all the audio channels to perfect the first intermission: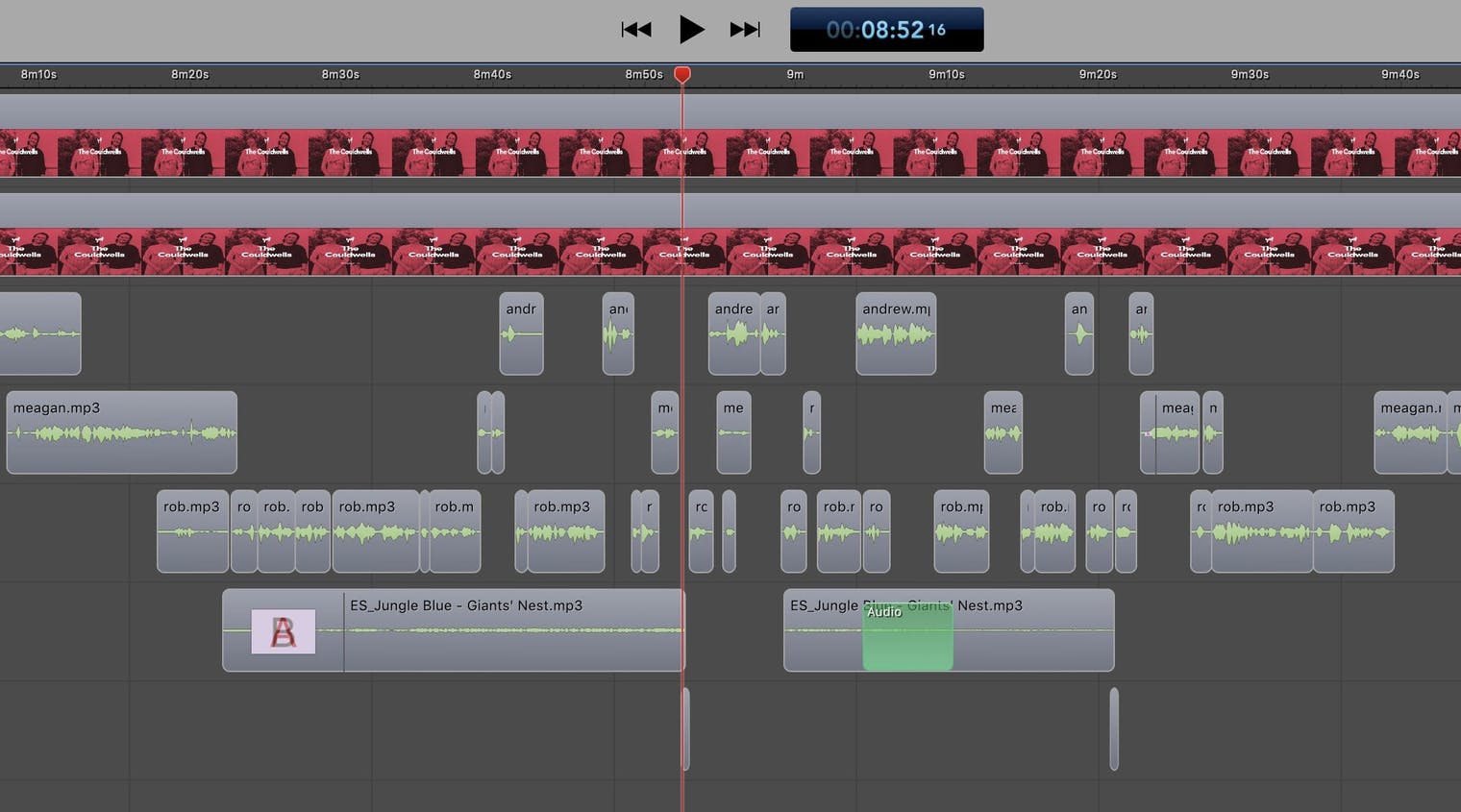 View Large
Here are the 3 artwork concepts I came up with, they both chose the third option: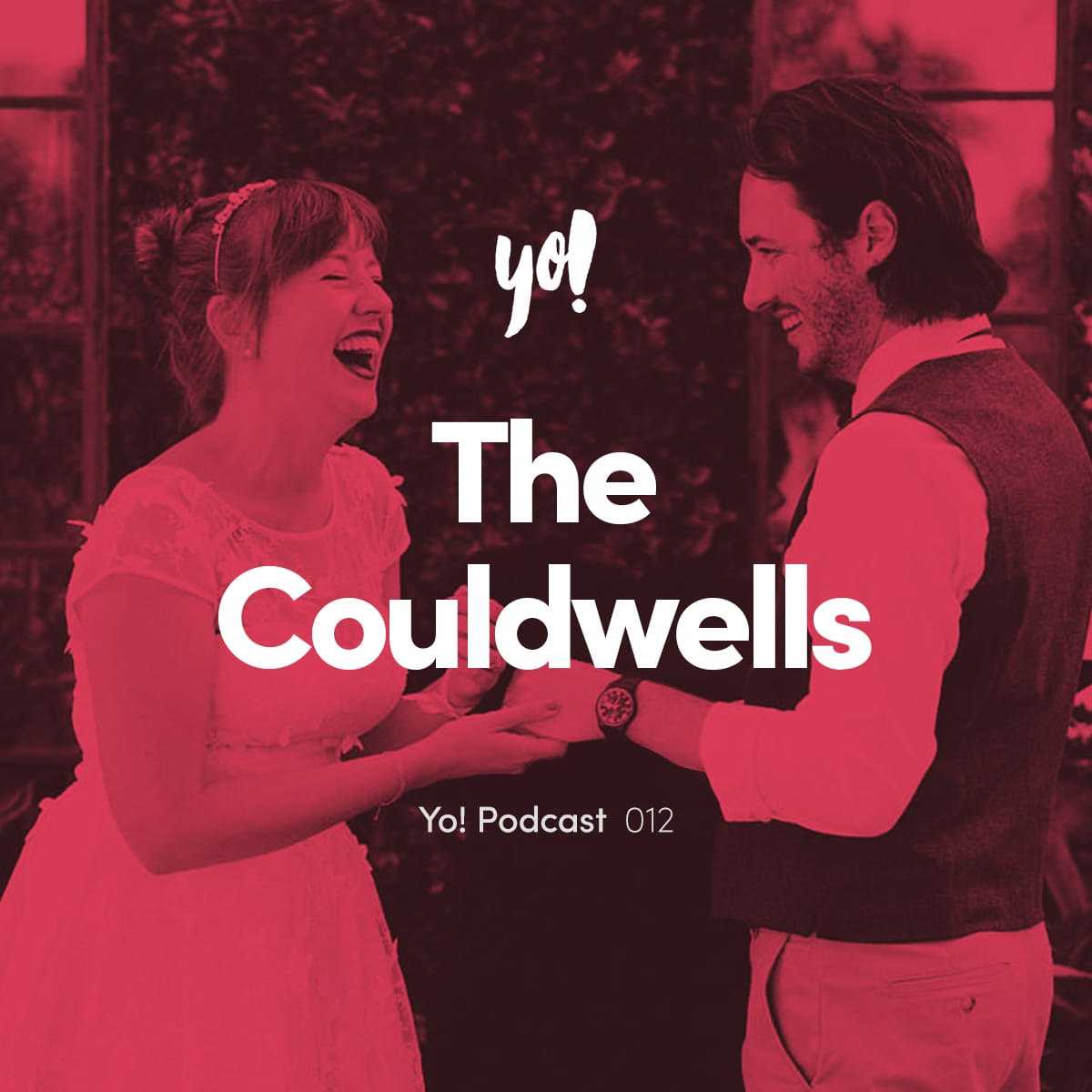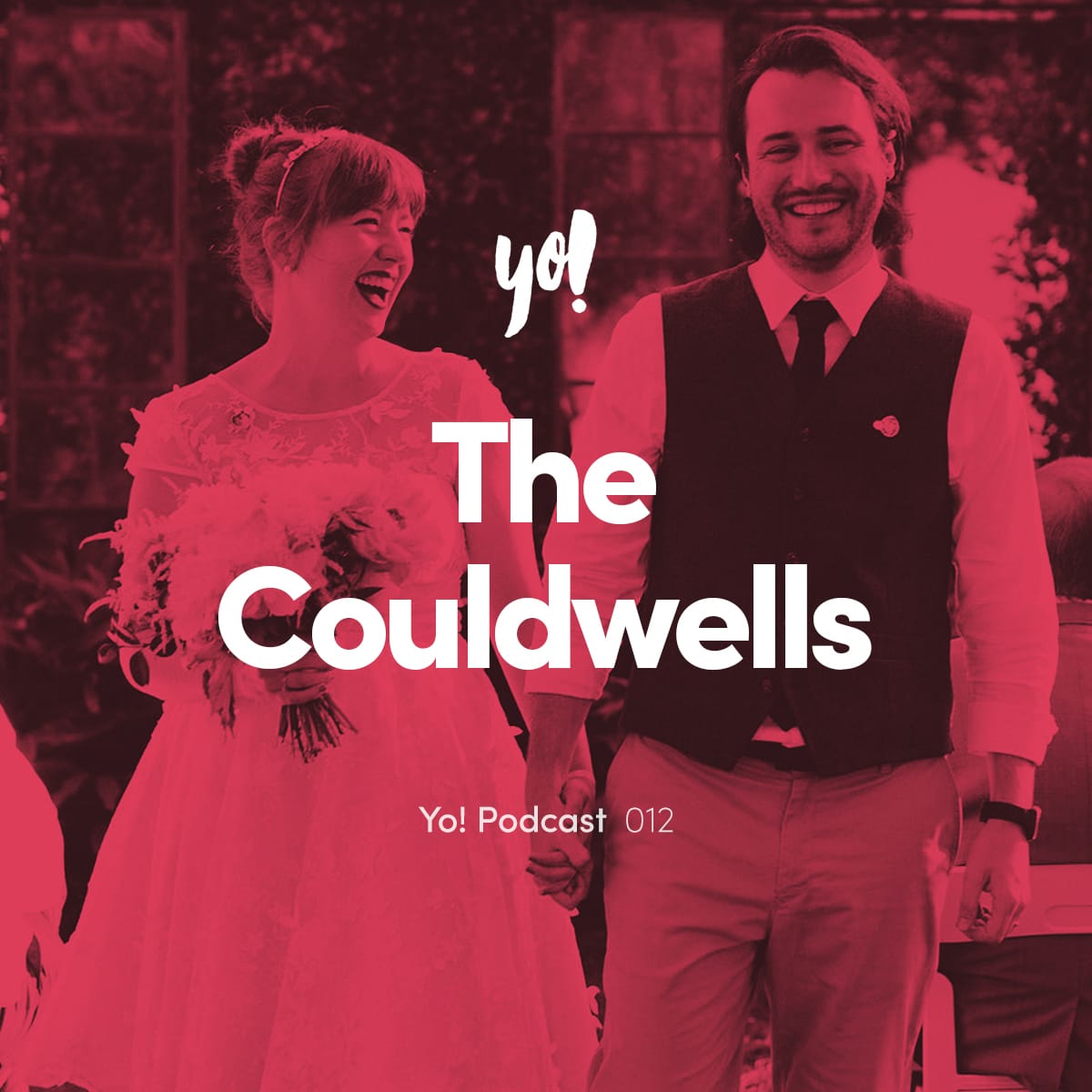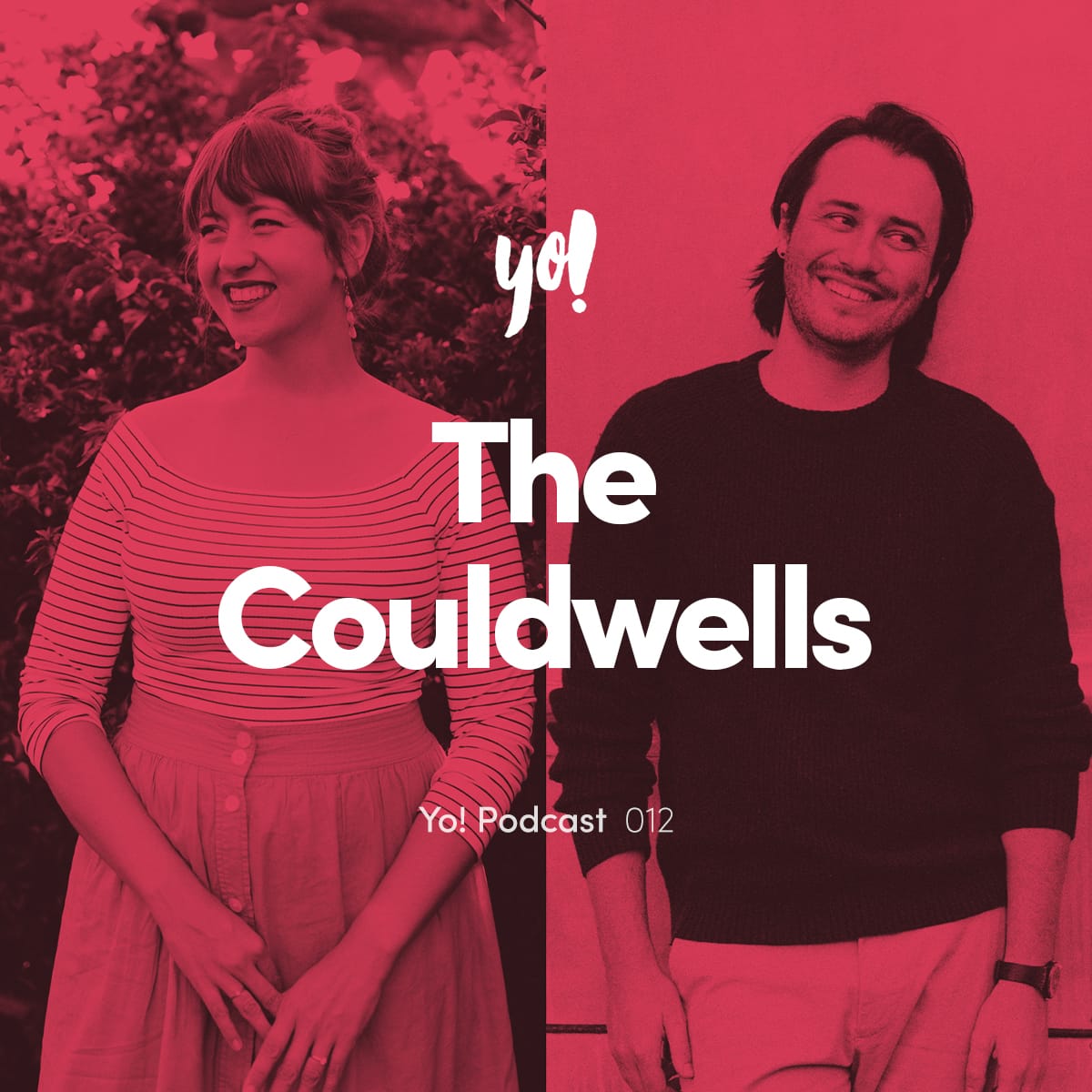 Here are my sketches while facilitating the remote quiz: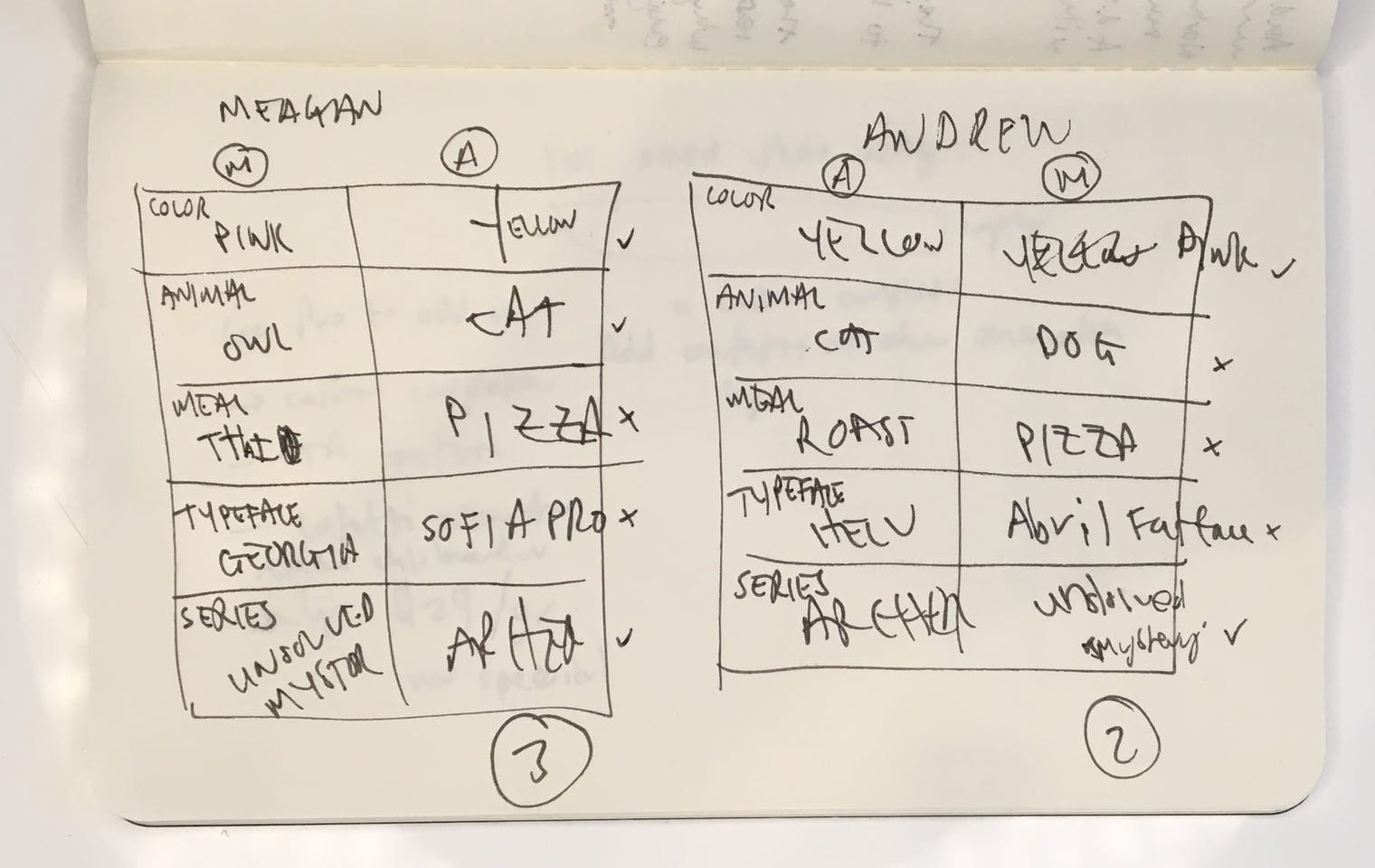 View Large
And here is a behind-the-scenes look at how I make notes during episode research: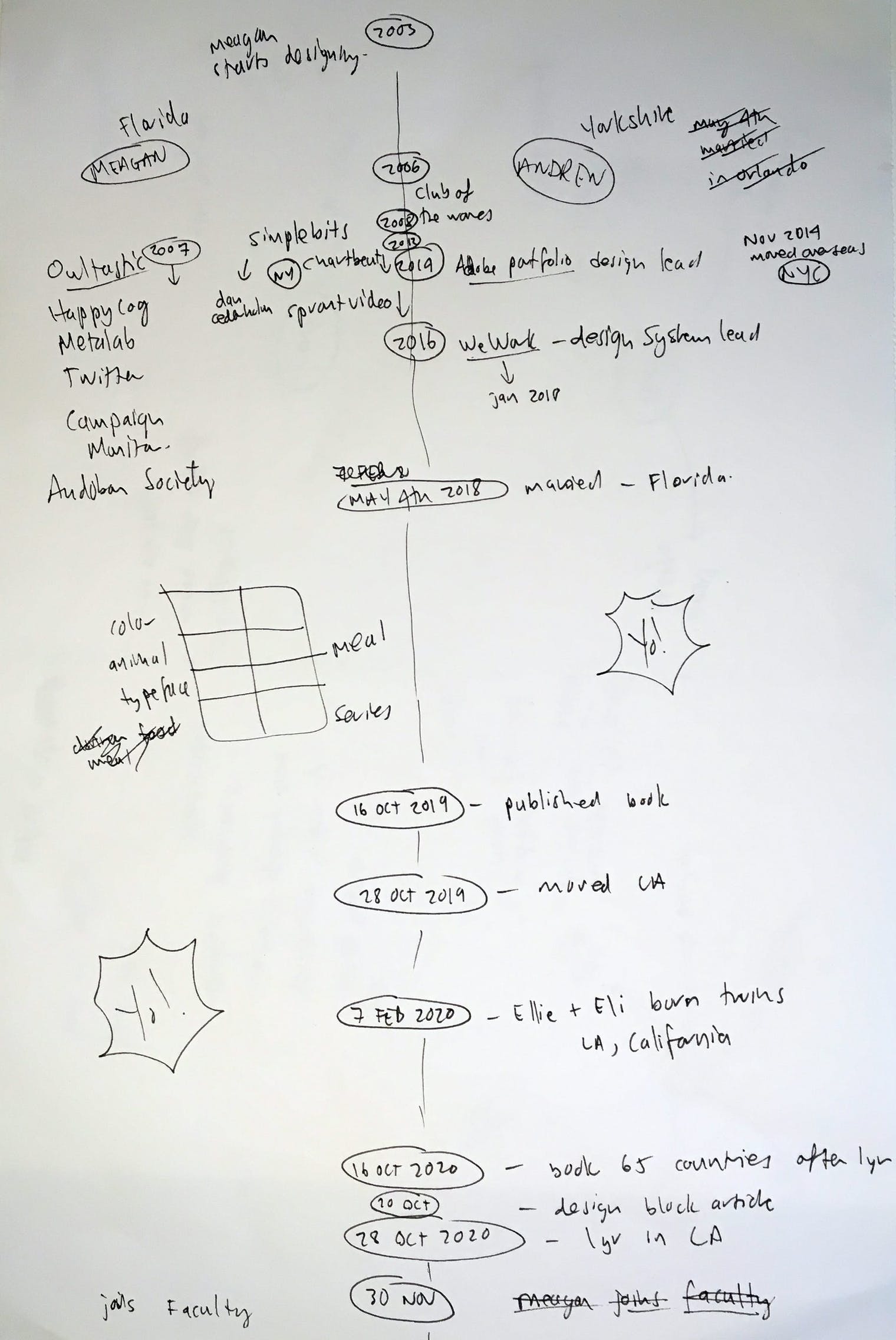 View Large
---
Transcription:
Rob:
Yo, Meagan. Yo, Andrew. Welcome to the Couldwell Special Edition.
Meagan:
Hi.
Andrew:
Hey. Thanks for having us.
Rob:
Cool. So I'm doing my research, and Disney was a recurring theme. A little birdie whispered in my ear you two have annual passes to Disneyland. Meagan, how often are you going?
Meagan:
So, we actually just moved to California from Florida, and… So, there's two different Disney's in the States. That's an important thing to know. And we had annual passes to the Disney in Florida.
Rob:
Okay.
Meagan:
And before we moved, I would say we went at least once a week…do you think, Andrew?
Rob:
Wow.
Andrew:
Yeah, conservatively.
Meagan:
When we moved down to Florida from New York, we kind of looked around and we were like, we don't really know what to do with ourselves down here. It's such a huge life change from being in the city. And we were like oh, my God, we can be at Disney as much as we want. Like, that is going to be the thing that's going to make being in Florida awesome. So, we pretty much lived there. And then just recently we moved to California, and we were going to get passes here, but sadly because of Coronavirus, Disney has been closed. So we haven't been going as much, which has been really hard for me because I am a huge Disney nerd, and I love it.
Rob:
Okay. So Disney is just so iconic, and I'm bleak to admit I've never been.
Meagan:
Aww…
Rob:
Meagan, hailing from Florida, local turf, what would you say the top three activities to tick off the Disney checklist are for first-timers?
Meagan:
That is such a tough question. Especially for the Disney in Florida because there's Animal Kingdom, there's Epcot, there's Hollywood Studios, and there's Magic Kingdom. So it's not just one park, there's four parks, and you have to do all of them. Then there's also golf courses and water parks, and…so picking three things is definitely tricky. But I'm going to go with Magic Kingdom for my recommendations, because that's the classic Disney park that you probably grew up wanting to go to. And I'm really into the nostalgic Disney stuff, the original kind of creaky animatronic '50s-era Disney stuff. So, I really like It's a Small World. I think it's well worth doing. Especially as a designer because it has just this crazy '50s style that's really colorful, there's like, glitter everywhere, it looks like someone's craft project gone mental, and it's just kind of beautiful in it's quirkiness. So, that would be one. There's another thing there that I think a lot of people skip because it's really corny, but it's called the Country Bear Jamboree, and the first time we went, I was like, "Andrew, you have got to go see the Country Bear Jamboree with me. It's the best thing at Disney." And it's literally just a lot of animatronic bears playing the banjo and singing these really weird songs about the life of a bear. But I think everyone should see it because it's hilarious, and just old school.
Rob:
Brilliant.
Meagan:
Probably the last thing would be this… So, everything at Disney has really long waits, and it's kind of frustrating because you're standing in 1,000-degree heat, waiting in line for hours. So my last tip would be to do…there's a thing called the Philharmagic, and it's this Mickey Mouse 3D movie, and there's never wait for it, it's always 10 minutes and you go right in. And it's really cute and funny, and it's a good way to get out of the heat. So, I think everyone should do that. So, those are my tips.
Rob:
That's absolutely brilliant. So this is when the listeners think we're going to segue into design systems, but they're wrong, we're here to talk more about Disney. So Andrew, is it true that whenever you go to Disneyland you drink ales in the Harry Potter pub to remind you of England?
Andrew:
Oh, that is 100% true. That's actually at Universal though, not Disney, in case people go to Disney and they're crushed that there's no Harry Potter thing there.
Rob:
Okay, my man.
Andrew:
But, yes. Some of the parks are dry so you can't drink, and some of them you can drink alcohol. So, that very much steers what we're feeling on the day as to where we would go.
Rob:
Cool. So, back on Disney…
Meagan:
Yes.
Rob:
Meagan, do you get any work inspiration or motivation, being at a place like Disney? I mean what a monster, cohesive, well-designed brand.
Meagan:
Yes, 100%. This is, like…I think Disney is one of the best examples of a well-executed brand. And like, if you want to say design system, they've got that on lockdown. Like when you get off…when you step out of the parking lot, right away it's like, there's a color scheme for your parking lot that is executed on the vending machines, in the bathrooms at the ticket stands. And the entire way through, the experience is just so well thought out, there's no detail that they haven't considered. I mean, it sounds really dorky, but I do feel like Disney is kind of the ultimate example of just a brilliant design system and brand. So I definitely get inspiration just from how well they've done it, but also just my personal style, I think, is heavily influenced from growing up in Florida, and going to these parks all the time. Like when you look at my website…this is a true story, it's kind of funny. After I designed my site, we were walking around Universal, like the Harry Potter section, and we were in a gift shop and we looked up at the ceiling, and there was all these blue and gold stars and planets, and Andrew was like, "This is like being in your website," and I was like, "Oh, my God, you're right. I just designed my website based on Harry Potter, and I didn't even mean to do it."
Rob:
That's so phenomenal. Andrew, being a designer as well, and we're going to talk about design systems, having published a book on systematic design, do you walk around a place like Disneyland and try and optimize everything, or do you just appreciate the behemoth?
Andrew:
Yeah, I think I definitely notice trends maybe more than your average person would. Yeah, I don't know, I kind of unpack things. I think…Meagan will appreciate this, I think one of my sort of weird quirks in life is that I always…and this is going to make me sound like an insanely negative person, but I always…I have a gift for finding the fault in things. I really, I almost hate myself saying that out loud, but…
Meagan:
It's true.
Andrew:
I mean, I'll look at a situation, and I'll be like, ohh, you know what's dangerous about that…you know? Like, oh, that could kill someone, or oh, that's that color, and people are going to think that, but actually what it means is this… Which is probably incredibly annoying to be around, but I think…yeah, it's like a very important thing in design systems, and in design in general. But yeah, I think I actually, I do that in reality. I'll do that at Disney, you know? Like, ohh, I don't know why that's like that.
Meagan:
I can totally vouch for that. It's so true. And even with fonts or something, we'll be walking around and he's like, "Now, why have they introduced a new typeface here? That's not necessary." I'm like, "Oh, my God, let it go, babe."
Rob:
That is so good. Okay, let's break into a quick intermission I like to call "No Context." Simply shoot back either of the two options I give you, no explanation needed at all. Meagan, a Florida conch fritter or Yorkshire pudding?
Meagan:
Ohh…conch fritter.
Andrew:
Oh, terrible.
Rob:
Andrew, a festive Yorkshire pub crawl or sunset cocktails in Miami?
Andrew:
Oh, pub crawl, every time.
Rob:
Meagan, Twitter or Instagram?
Meagan:
Ohh…Instagram.
Rob:
Andrew, Sketch or Figma?
Andrew:
Oh, I hate you for that question. It's loaded, but Sketch.
Rob:
Meagan, Sketch or Figma?
Meagan:
Sketch.
Rob:
Andrew, Arctic Monkeys or Kaiser Chiefs?
Andrew:
That's loaded as well, actually. There's a story. But Arctic Monkeys. They're also Sheffield Wednesday fans, the same as me.
Rob:
Meagan Dashboard Confessional or Arcade Fire?
Meagan:
Oh, Arcade Fire for sure.
Rob:
Andrew, "Endless Summer II" or Lost's, "What's Really Going Wrong?"
Andrew:
"Endless Summer II."
Rob:
And final question, Meagan, Ellie or Eli?
Andrew:
Oh, that's brutal.
Meagan:
Ohh…impossible to say.
Rob:
Loaded. Okay Meagan, in February 2020 you gave birth to a beautiful pair of fraternal twins. I had to look that up. Wow, what a ride. How does one get any work done with newborn twins?
Meagan:
Oh, my God, I will tell you when we figure that out. Yeah, it has been a crazy ride. And we were not…we didn't know we were going to have twins. most people don't. We were sort of trying to decide if we even were ready to have one kid when we found out we were having two. So it was definitely a shock, and we're still sort of navigating twin-parenting life. But as far as getting work done, we've kind of just had to play to our strengths. Andrew is really good at working under insane pressure, with crazy distractions going on. Like, I don't know how he does it. Like, there can just be chaos whirling around him, and he can just sit down and get stuff done. I need uninterrupted, perfect peace, I need to be in comfortable clothes with the right coffee, I'm like, a total diva about my work. So it's definitely been more of a challenge for me, but it's gotten a lot easier now that the kids are a bit older because I'm a little bit more comfortable being away from them, so…now it's kind of like we'll juggle the kid duties so one of us can step away and get some stuff done. And yeah, thankfully, we just have that kind of partnership where it's been…it's been really great, because like I said, I can just say "Babe, I need to put on some sweatpants, get myself a really good coffee, and go bury my head in this project for a couple hours," and he's happy to pick up the slack with the kids there, and make that happen.
Rob:
Hey Andrew, so you basically get tagged in, and then you're it?
Andrew:
Yeah, essentially. I think you've kind of just got to roll with the punches a little bit with kids, I think, especially with twins because it's not like you can hand the baby to the other one while you go and do a thing because there's two of them, you know? And you give one of them, and like, oh, can you change the baby, can you stop…can you give the baby some milk, and then the other one starts crying. So there's two of them and two of us, so you just can't…you just cannot be okay, right, I've got two hours to do my work now, and then do two hours, because that, that two hours might actually end up being two minutes. So you've just got to be really, really ready to go whenever you can, and just…I don't know, just get shit done.
Rob:
Oh, man. So Andrew, in October 2019, you published a book called "Laying the Foundations, A Comprehensive Guide to Design Systems," that's now being sold in 65 countries. In hindsight, what would you have told yourself before embarking on this book publishing adventure?
Andrew:
Wow, good question. I think, honestly, that the actual sort of writing and editing and design process I think went really well. I think both of us, I think we're genuinely really happy with the end product. I think that the part that was by far and away the hardest was sort of the printing process, and you know…or rather a print partner. So I would say we honestly spent as much time researching and trialing different printer partners as we did, writing and designing the whole thing, which was super frustrating, it was a massive waste of time and money as well. It was a very, very expensive series of mistakes, and trial and error. And I think one problem was I think in my mind, I thought print-on-demand was the only way to go. So I think if I did it again, I would…or if I could go back, I think I'd tell myself to broaden my search more, and I think probably look into offshore printing instead of sort of only looking at things online, and like, what we can find in our local neighborhood, I think to sort of really broaden the search. And I think that would have saved us a lot of time and money and frustration, and got the book out quicker.
Rob:
You know what, I read your post mortem. And that part where you said some of the books came back and the printer only started on page 31, I felt so ill. Why did you choose to go hardcover?
Andrew:
Yeah, that one's easy, actually. I have been a digital designer, forever, my whole career, and I just…it sounds kind of silly, and I guess…I mean, you'll get it, and I think anyone who works in digital will get it, maybe. Sometimes I feel like everything I design has such a limited shelf life, you know? I look back at some things you did five years ago, and already it doesn't work, or…I mean, I've honestly…and actually, in the past couple of months, I designed and built a website, which I think survived a total of two weeks before it was replaced with something else because the startup changed direction. It wasn't because of what I did, it was just the startup had to move in a different direction. So, I just really wanted to create something real, something that wasn't going to disappear, something that wasn't going to inexplicably change all of a sudden. And I don't know, just being able to sort of touch something tangible was just sort of really…just a really nice thing to have. And as corny as it sounds, with kids, we actually wrote and published a book before the kids came, which was very deliberate because I don't think we'd have stood any chance of doing it afterwards. So, I think…I don't know I love the idea of my kids being able to say, "Hey, my dad wrote a book," and "My mom and dad produced this together." I think there's something really cool about that.
Rob:
That's so great. So with that being said, with everything you've learned, would you recommend to other authors out there to aim for their first book to be digital, and maybe second book tangible, for a bit of momentum?
Andrew:
Yeah, I could see that. I mean, I do think, and I know you have an ebook, so maybe you can identify, I do think actually, I had a good fair share of problems with the ebook as well, in terms of…
Rob:
Fuck me.
Andrew:
Yeah, I mean, you know…
Rob:
Images.
Andrew:
Yeah, images, and Amazon Kindle, you know? It's like, it's just…it's horrible.
Rob:
Wow. That's literally what I'm doing right now with the ebook, I'm doing a Kindle version. I'm in the middle.
Meagan:
Oh, God.
Andrew:
Yeah, it's…I mean, maybe we can exchange some notes on that. Although, I think my notes are generally everything I tried failed. But I think, back in the day of websites, it was kind of like, oh, let's make a great website, and then attempt to make it work in IE 6, 7, 8, you know? And I feel like the ebook world is still stuck in that world of okay, all right, it works great on an iPad, it looks great on a Pixel, oh, it doesn't work at all on Kindle. Wonderful. So yeah, it comes with its teething problems, but I would say the barrier to entry is very low. And there's a lot of software which will do this stuff for you, so I think it's very easy to do that, to maybe start with an ebook. And I will say, I think there's sort of financial considerations as well. Obviously, printing a physical book costs a lot of money, you know? You have to spend money to make money, quite literally. Where an ebook, the barrier to entry is practically nothing, you can just get it out there, and…you know? Like when someone orders a book from me, it's already cost me so much to print the book, it costs me money to…I have to buy envelopes to put the books in, and shipping labels cost money, shipping costs. Where an ebook, you get a digital download, so you sort of pocket more money. So there's a number of reasons, I think, to go with an ebook. For me, the reason to do a book, as well, was because I said before, I just wanted something physical, something I could hold.
Rob:
Hey, friends, it's Rob from the edit. To help keep the podcast ad-free while supporting the production, I've launched the Yo! Friends Supporters Club. Simply head to robhope.com/friends to grab a pay-what-you-want annual membership. Yo! Friends members also get access to fun behind-the-scenes content, and bonus questions. Okay, back to the interview.
Meagan, you edited the book. Does this mean you fixed it for him?
Meagan:
I wouldn't…
Andrew:
Yes.
Meagan:
I don't want to be the one to say that. If he wants to say that, that's fine. No, I'm just kidding. I mean, the way the book came about was that we worked…we did a workshop together that was really great for Sparkbox, which is an awesome agency based in Ohio, here in the States. And when we did the workshop, it was the first thing we'd worked on together, and I was like, they really want someone to talk about design systems, I feel like you know this stuff better than anyone. He…led the design systems effort at WeWork, and I was like, "I can't speak to it. I would just be talking about what you know and what you did, so I think you need to come with me and do it." And it was a, what, eight-hour workshop, I think? And he put together four days worth of content for his part of the workshop that we were doing together. So I was like, "You have too much material here, you've got to turn it into a book," so I was so excited when Andrew decided to actually do that. But I think the biggest challenge with editing was actually that Andrew has so much to say and such a wealth of knowledge just from…not just about design systems, but just doing product design and design in general for 15 years. So a lot of what I was doing was just, like…this is another book, babe. We've got to set this part aside for now, and keep it focused on just design systems, because you could write a whole other book about this. So I wouldn't say I fixed it, I just prevented it from being a 600-page tome that we wouldn't be able to ship.
Rob:
And this is not your first time, editing, Meagan. In 2008, you helped Dan Cederholm with "Bulletproof Web Design" and "Handcrafted CSS…"
Meagan:
Oh, my God, I don't know how you even found that out. That's so funny. But yeah, that's true. I wouldn't say I…like, that was different, because I was 23 at that point, so I didn't really have the confidence to give Dan any meaningful feedback probably, or the knowledge, really. I think that was more like him user testing the book on me, so I would read chapters and then say, "Oh, this part wasn't that…" like "This part didn't make sense to me," or "I was confused about this or that." And then sometimes he would go off and make some tweaks, I think, based on that, but a lot of it was just him having a second pair of eyes, and kind of reinforcing that his books were awesome, which of course they were. If anyone's familiar with Dan's work, he's a brilliant writer, and definitely inspired a lot of what we did.
Rob:
You speak highly of Dan, as a boss, and I guess a mentor as well. As a designer, what makes a great boss?
Meagan:
Oh, that's a good question. I think a lot of it has to do with trust, really. I think that was the best thing about working with SimpleBits is Dan trusted me and my ability more than I did, and had more confidence in my ability to design than I even did. So he would give me really big challenges, and kind of let me run with it, which was really great. And rather than watching over my shoulder, he just gave me really open and honest feedback while I worked, and let me ask questions about everything he did. So I think it's…I think a great boss, it's really that openness, willingness to share their thinking behind your work, willingness to give great critique, and then just put a lot of trust in people to work their own way, not trying to over-manage everything, or force your own processes. Like, the best bosses I've had have really just kind of given me trust, and then let me take the reins a bit. Which I will say is really hard to do. Like, I've been in management roles, and it's not something I'm comfortable with giving people the reins, because I have all my own ideas about how design should be done. And so I think it takes a really special person to kind of, take your hands off the reins a bit and let someone kind of explore and develop their own style. So, I've been really lucky to have people do that for me.
Rob:
That's a brilliant answer. So Andrew, you've been proactive after publishing the book, articles, Skillshare course, that post mortem that I cried over. What post-launch efforts had the biggest returns?
Andrew:
That's a good question. Yeah, I think you have to go before, sort of…like, everything we did before the launch actually helped with the post-launch. So I think being prepared would be the best thing. And I think the single… So I think on, sort of, on a smaller level, just being prepared, so actually, knowing how we were going to package the book, how do you print shipping labels, like…you know? Which I could go into detail on all of those things, but just knowing all of that when the orders start pouring in was an absolute lifesaver. We would have drowned if it wasn't for just being prepared. But I think the single best thing was…so we actually put up a one-page website, which you very kindly featured on One Page Love, so thank you.
Rob:
Pleasure.
Andrew:
And it was really, really simple. It was basically, this…I'm writing a book right now, it's going to be cool, and it's basically about this, and this is a little bit about me. And if you're interested, subscribe with your email, and I'll let when it's live. You get exclusive access, you'd be the first person to be able to buy it. And the response to that blew us away, and I think we had over 1,000 subscribers in the first couple of days.
Rob:
Wow.
Andrew:
Yeah, it was amazing. Because I think, for me personally, I thought, well I've got 100 Twitter followers or something like that, you know? Like, if 20 people sign up and they're not all my mom and my aunt and my brother, then I'm doing well. So, I was kind of blown away by the response. But sort of ego aside, like actually getting those subscribers as paid dividends post-launch. So on launch day, it was brilliant because we saw a huge wave of initial, purchases basically, but then after launch, being able to… if you send an email to 1,000 people, probably only 200 of those people are even going to open it, and then 10 of those people are going to buy a book, you know? But two months down the line, one month down the line you can send them an email saying, you know…like, so we've just had Black Friday here in the States, and you can send people who've never opened an email, who haven't bought the book, and say, "Hey, today only, 50% off the book," and then, you see a spike in sales. So I think actually email marketing, in general, I think has been the most powerful tool for sort of communication and sales.
Rob:
Jeepers, great takeaway. So for someone listening right now, going what the hell's a design system, the way you define it is so interesting, because you're so passionate about it, you want to absolutely go to town on the definition.. But you try and break it down, and that's where I must give you merit on the book, is that you try and cut out all the fluff. And almost everything you can see has been edited down, so congrats, Meagan. What would you say are the three components or elements in web design that someone should start with when they're trying to create a design system? what are the lowest hanging fruit they should tackle, that should probably have the biggest return?
Andrew:
Yeah, good question. Like, a design system, is not like a silver bullet, like cures all problems. I think a better way to go into it is just to think about designing things systematically. So, don't design…don't solve for problems in isolation, think about them as a sort of holistic approach to design. So don't just come up with a different solution to every single problem, think about designing solutions that will work for a number of problems. So in terms of three things you can do, the way I approach most websites and products it's not like I sit down and write this stuff down every time, it's just the way I think about it in my head, I break it down into foundations, components and patterns. So as those three things, like the first, foundations, think about, the grid and layout, like using a similar layout and grid structure for every page throughout the website. Don't just keep reinventing the wheel every time, use…use two…don't use eight fonts or typefaces, use two. Don't…use a different font size and line-height for every single title throughout the product, have like, three, like a large, medium and small on a basic level, and roll them out across the product. Don't use a different color every time you need a color, create a versatile color palette of, say, two or five colors, and stick to those. And use them systematically, you know? Use blue for call to actions, use black for text, use red for errors.
And secondly, components, like the…think about them as the small building blocks, like buttons and form inputs. And even just, your approach to links in general, like text links, don't create a different button every time you need a call to action. I think that's one of the main offenders in products that I've audited, you go through a product and you find 20 different styles of buttons, that's insane, you know? The amount of codeblow that that creates is just monstrous, and I see this in almost every project I work on. So create one or two buttons, create one for…one way of doing text inputs, one way of doing selects, and and roll them out across the product. And then thirdly, like patterns, think about the larger building blocks of products. So you know you don't need to create a different pattern every time you need an image gallery or an image carousel, create one that you use in different scenarios, you know? You probably only need one navigation, you need one footer, one way, or two or three ways for sort of, that versatility of presenting sort of product cards, if you're doing ecommerce. And then just, be consistent throughout the products, and that will help in every way. And the number of ways that that helps, I think you might have to get the book for that.
Rob:
Oh, great. So Meagan, congrats on the new job at Faculty. You announced that, I think, a week ago. You're in charge of leveling up the design in 2021. And they're mainly a development driven team, right?
Meagan:
Yeah. So Chris, who's like the founder, his background is in engineering, but he's always been really passionate about design. He was one of the co-founders of Brooklyn Beta, which for those of us who have been around for a little while, we'll remember as one of the best…I want to call it a design conference, but it was so much more than that, because they had people, politicians and artists and filmmakers and all kinds of just creative people making the world a better place. So that's where Chris is coming from, he's an engineer, but with the heart and passion of a designer. And so Faculty is kind of all about that. They've got a project manager, Doug Wilson, who's made a documentary about typography, and sort of the history of it, so he's really passionate about design. And a front end developer who I'll be working closely with is also a really great designer, and a creative developer who brings a lot of flair and artistry into all of the front-end work he does. And then a team of brilliant back-end designers…or back-end engineers, rather, and project managers. So I think I'm coming in as the first kind of pure designer, but they're a team that, kind of, design runs through their veins, if that makes sense. So I'm really excited to join a group that's so passionate about the work we do, and making the web a better place. Like, I know everyone says that, but I feel like Chris really believes it, which is really cool.
Rob:
That's super exciting. having spent some time in New York, working face-to-face with startups, would you recommend this career path versus remote working, if both options are equally on the table for an upcoming designer?
Meagan:
I think it totally depends on where you're at in your personal life, as well as sort of your career goals. My time in New York was definitely invaluable for me, and I'm so glad that I did it, especially when I did it, you know? I was in New York for most of my 20s, working with different startups. My sort of sweet spot was coming into a startup when they were just getting going with design, so I could just grab the reins and run with it. So I got to do marketing, and product, and t-shirts, and the whole thing. And I loved that challenge, and I definitely learned so much doing that. And working in those spaces, you're just moving a million miles an hour, and startups have to be so nimble and things are changing all the time, and it was really fun and exciting. And like I said, just from where I was at in my age, in my life, that was perfect for me, and I definitely learned a lot from it. I wouldn't want to do that now, and I'm kind of glad that that chapter of my life is behind me. I actually, when I sent out the…when I first was talking to Chris about working with Faculty, I said, "I don't care if your beer fridge is well-stocked. That's not what I'm looking for from a job anymore." Because I feel like you see so many startups that are, like…
Rob:
All the waters.
Meagan:
Yeah, exactly. Like, "We have lots of snacks, and we all hang out together after work," and I'm like, no, I kind of just want to do great work. And I think it doesn't matter if it's remote, or how cool your office is I just want to focus on the work now. Where startups have a very different culture, there's not a lot of…there's not great work/life balance I n most of the ones I worked in in New York. So I'd say if you're listening to this and you're up for that kind of fun and challenge, it's definitely an adventure, but don't expect to be home having dinner with your family, and… Yeah, it takes over your life a bit, so…
Rob:
Darshan asks, "Being a couple who are both designers, I'm guessing you must both be headstrong. What do you do when your opinions clash? I'm asking this because my wife and I are newlyweds, and are both designers, and are both headstrong."
Meagan:
Oh, my God, that's such a good one.
Andrew:
That is a good one, I think…so, a little bit extra context, we set up what we called Owl Studios, I don't know how long…like, four years ago? And actually, we created a one-page website for that, which is also on One Page Love, so thank you again. the whole idea was okay, so we both are designers and developers, why not team up and work on stuff together? Like, that just makes sense. And it kind of works in terms of a marketing exercise. We'd get…people would say, "Hey, we love your work. Here's our project," and we'd get the first five emails, and it'd be like, okay, so this one has Meagan written all over it, like the second one, Meagan hates working on that kind of thing, but this is an Andrew project through and through, and we realized that actually working together on this stuff isn't always going to work. But I think a really great thing…and I think definitely gender and sort of cultural differences play into this, because I mean, I'm English, Meagan's American, obviously male, female, so all those different sort of background and influences and style choices really, really help. So the way that I would approach a problem, and the way that I see something is very different to the way Meagan sees it for 1,000 reasons, so it's really, really great to have someone you can just…you can bounce ideas off of. And it is hard, I think, being partners because, designers, we're a sort of sensitive crowd, and it's your baby, and you put a lot of love into it and then you say, "Hey, babe, what do you think of this," and they're like, "Hmm…you know what? I just don't think this bit's working."
Rob:
The font.
Andrew:
Yeah, definitely "I don't like the font…" Which is hard, but it's also great. I think we genuinely pushed each other to do better work. And I think most importantly, look at it from a different perspective. Like, I know you think that when you see this, but actually, I take that away from it. Like aha, that's interesting, I didn't see it that way. So, there's a lot of… I mean, Meagan's laughing, there is a lot of times when it goes wrong as well.
Meagan:
No, I agree 100% with everything Andrew said. Like, I am so much of a better designer for having his input, and it's invaluable to me. And I think I've just gotten so much better for having him to sort of talk through stuff with. Andrew is so much better at receiving and giving feedback than I am, I'll just be honest about that. So like, every time I'm like, "Babe, I want you to give me feedback on this, but like, just strap in because I'm not going to like anything you have to say, and I'm probably going to argue every point, and have to walk away at various points for a few minutes." So to the person who wrote in, I would say, for both of you it, if you can just have a laugh, because there will be moments when you're looking at each other's work, and giving each other feedback where you'll both get frustrated if… Basically, you just want their unconditional agreement that you're brilliant, and when they don't give you that, then sometimes you can get mad. But yeah, just stay open to that input, because like Andrew says, it's like, everyone's got a different perspective, and that diversity and that view can only strengthen your work. So if you can get through the kind of awkwardness of it, it's really worth doing and communicating. But like Andrew said too, I don't think it works for us to directly work on the same designs most of the time. Probably the only time we did that was our wedding website, and that actually turned out great. But most of the time, because we have such different styles, we do tend to just one person owns the design, and then, we're in communication but we don't have our hands in the same files, so to speak.
Andrew:
Yeah, I actually think, sort of additionally, I think it's actually really healthy as well. Because I think it can be quite hard, and I think I've had this with sort of previous relationships, dare I say, where you… It's hard to take an interest in what the other person does, and I think there's something really kind of awesome about actually being able to talk passionately about, what you do with the person you spend, all or most of your time with, just being able to talk through your design, and for them to take an active interest in it and really talk it through, I think, is actually probably quite a powerful thing in a relationship.
Rob:
Let's break into a second intermission I like to call "True, False or Maybe." All you need to do is reply with either of those three words, true, false or maybe, and no explanation needed at all. Are you ready?
Meagan:
Yes.
Rob:
You once made a Spotify playlist titled "Wedding Sap to Torture Andrew."
Meagan:
True.
Andrew:
A design system isn't a silver bullet. No, you don't always need it.
Rob:
So…false.
Andrew:
False. Yes.
Rob:
Okay Meagan, you were concerned the twins would possibly grow up with a Yorkshire-Florida blend of an accent.
Meagan:
Maybe.
Rob:
Andrew, fish and chips in the U.S. is actually better than the UK.
Andrew:
Oh, 100% false.
Rob:
Meagan, when you moved out of your parents place, an owl mysteriously moved in.
Meagan:
True.
Rob:
Andrew, in hindsight on May 4th, 2018, you should have had a Star Wars-themed wedding.
Andrew:
I mean, true?
Rob:
Meagan, designers should not have to know JavaScript.
Meagan:
True.
Rob:
And last question, Andrew, there are actually respectable waves back home in Yorkshire.
Andrew:
Ohh…false, true, maybe. So, I went…I used to go, I mean a depressing amount years ago, up to Saltburn, which…is that even Yorkshire? It's near Middlesbrough, so it's like, very northeast. And the water, the wave quality is pretty terrible. Although, you know like anywhere, it can be…there are moments where it's good. But the main thing is the color of the water, man. I mean, I think in South Africa, I'm guessing you probably have aside from the sharks, you've got like, beautiful, crystal clear waters, probably.
Rob:
It's beautiful, man.
Andrew:
Yeah, I mean, I'm jealous. And we have that now in California, and it's stunning, but in parts of England, the water is freezing cold, and it's brown. So I think it's more the temperature and the color of the water than the quality of the waves that really concerns you.
Rob:
So, you've been running a surf art and photography showcase called Club of the Waves since 2006, that you title "a labor of love." What keeps you going?
Andrew:
Just…I don't know. Everything about it. I mean, I think that's actually the thing we, the two of us, have in common, Rob personal projects. I just, I can't say enough positive things about them in general. I've had, different personal projects, but Club of the Waves is the one constant throughout my career. And I'll be honest actually, I mean, if you go on my Medium, there's an article called "I nearly quit," which just really highlights how important this project is for me, that I mean, I actually did genuinely nearly quit, or pretty much did quit about four years into my career. And Club of the Waves is just one of those projects which has just been a constant for me, you know? I design it, I build it, I trial new things, it's a digital playground. So I've learned HTML5, CSS3 pretty much most of what I've learned, I've learned by experimenting on Club of the Waves over the years. And just the satisfaction, I think, of running it, and… Because for people who don't know it, it essentially showcases surf art and photography, so artists and photographers whose work is inspired by surfing and surf culture. So, and a lot of these people by nature, artists, they're not digital people, they either don't have a website, or they have a terrible website. So my website, puts them in touch with a far greater audience, and some of those people have gotten contracts with Billabong and Quiksilver and Roxy. And just knowing that I can help them do that is, I think, genuinely the most fulfilling thing I've done in my career. And it just…I don't know, it just keeps my interest in design and everything alive. It's just such a great thing to be able to, to work on, and it's a good distraction, and…yeah, there's just no downside to it, really.
Rob:
Meagan, where do you find your inspiration, online or off?
Meagan:
Okay…that's always a tough question, because you're like, where does this…where does it come from? But I think for me, I mean, I mentioned it earlier with Disney, I kind of have always been fascinated by the fantastical, I suppose, so I think that does sort of play into my design style. I like to use crazy colors, and kind of off the wall textures. And actually, growing up, my dad was a really big collector of antiques, and where most kids, on the weekends would be out playing soccer with their friends, or…I don't know, going to the beach, because I was in Florida, I would mostly be going to antique shows and antique fairs with my dad. And he has a really fantastic eye for detail, especially with things like typography, and we believe through old newspapers, and old…for a while he collected sort of different paper goods related to the Civil War in America, so he had newspapers and currency and draft papers for soldiers, and he had these volumes of it. And I got really into that with him studying those, and just the type, and the way things were made. And then he kind of would switch gears and be really into furniture for a while. And I just tagged along for all of it as a kid, because I, I was a little girl and I loved hanging out with my dad, but also, I just found it so fascinating, and that has carried with me into adulthood. So I love just finding quirky, old, weird stuff.
Andrew makes fun of me because we'll be walking along and I'll see someone's old photograph of their family that they're throwing out, and I'm like, "Oh, do you think that's free? I want to keep it." And he's like, "Why would you want someone's tossed aside old junk," but it actually does really inspire me, and it lends a lot to my design style, I think. Like, I collect old tins for cigarettes. Back in the early 1900s, they would actually come in these beautifully designed tins, and they had really bright colors and cool kind of slab serif typefaces and things, and all of that plays a lot into my inspiration, I would say. I think it's really important for designers to get inspired from something other than Dribbble. Like, I still go and look at Dribbble and Behance and Awwwards and One Page Love to get ideas for web design inspiration 100%, but I think it's important to have something else outside of that to give you your own kind of flair, so you're not just repeating what everyone else is doing in the design industry, if that makes sense.
Rob:
Brilliant. I'm just thinking how this all translates into your site, you know. You've got so many little nuances that probably went into your Owltastic.com. And you know I was doing my research, and through your portfolio, it took me to Verse.press, and I think to myself, holy shit, now that's a color palette.
Meagan:
Well, that's cool to hear.
Rob:
Can you share your method to come up with a color palette? is it a dangerous journey through the dark parts of your mind, or something that comes natural to you?
Meagan:
I think my two biggest strengths in design, if I can just brag about myself for a second, are color and type. I feel like I've got those down better than… Like, Andrew is awesome at UX, and can spot, like…like he was saying before problems in a workflow, or places where a user is going to get tied up, and those are not my strengths, I would say. But color, I feel like…people have asked me that before how did you come up with that color palette, and I've seen there's color palette tools and things, and…I don't know, I've never had that. I'll kind of just talk to a client about a brand, and get a feel for…like, it's almost like it just pops into my head what kind of a color scheme feels like a poetry website, or… Like a while back, I did a series with Adobe that was celebrating different female activists, where it was like a landing page for each person. And I would just read about their life and be like, what colors feel like this person? And I know that sounds really woowoo, but it's kind of the best answer I have is like, I think I have a strong feel for color. But I probably got that from spending so much time looking at and thinking deeply about color palettes I see in life. And I'm obsessed…I'm really a truly horrible photographer, but I'm obsessed with taking photos of things that have beautiful colors, so maybe it's just all that sort of collecting of colors that lends itself to…
Rob:
I mean, you're the one who's created this color scheme, so this is not woowoo at all, this is exactly what it's about.
Meagan:
Well, I'm glad you like it.
Rob:
So when I compare the Owltastic site, Club of the Waves, "Laying the Foundation" sites, they all feature textured backgrounds. Meagan, are textures making a comeback?
Meagan:
I certainly hope so. Andrew…that's like, one of the only things we have in common, probably, in our design sense, is we both really love a good texture.
Andrew:
Yeah, I used to be kind of borderline insane with it. I mean, I think I use the word "grunge" a lot. I don't know if that actually makes sense at all, but…
Meagan:
Yeah.
Andrew:
I mean, when I first started my career, I did a lot of sort of band websites, because it was just a great way of, you know…you don't need a client, you're just like, "Hey, you need a website, I need to practice, so let me do a website for you." And like rock bands with like, grungy backgrounds, and like, painted elements and stuff, and…
Rob:
Yeah, yeah, I remember them.
Andrew:
Yeah, and I've just always loved that, and that plays in well to sort of the action and sports stuff I do with surfing. So maybe I sort of try and find clients that that works with, and… But I kind love blending textures, and painted elements and handcrafted elements with sort of simplistic, minimalistic. And it just sounds like those two things just shouldn't go together, but I think I quite…there's something kind of nice about offsetting those two sort of…
Rob:
Okay, let's end things off with an experimental intermission I want to call "Know Your Partner.
Andrew:
Oh, no.
Meagan:
Oh, boy.
Andrew:
Oh, boy.
Rob:
It can probably also be called, "Who is on the Dishes?" Okay, have you both got a blank piece of paper?
Meagan:
We do.
Rob:
I want you to create five rows, and that's going to match the five upcoming questions. So draw four horizontal lines. Now, draw a line right down the middle, forming two columns.
Meagan:
Done.
Rob:
The left column is for your personal answers, and the right column is for your partner's prediction.
Meagan:
Got it.
Rob:
Okay, question one, what is your favorite color? Left is where you put your answer, and on the right, you guess your partner's answer.
Meagan:
Okay, gotcha.
Rob:
Row number two, question two, what is your favorite animal? And it can be a bird.
Meagan:
Ohh…okay.
Rob:
Question number three, what is your choice meal for dinner?
Andrew:
These are a relief. I don't think any one of these will result in divorce so far.
Meagan:
So far, so good.
Andrew:
Hold on…I'm guessing I can't write two answers.
Rob:
Nope.
Andrew:
Okay, I've got one.
Rob:
Question four, what is your favorite typeface?
Andrew:
Oh, my God.
Meagan:
Ohh…well, I know…I have one for Andrew, but…
Andrew:
You do?
Meagan:
…I don't know if I could pick mine.
Rob:
That's going to be difficult for Andrew to guess.
Andrew:
All right, this might be the one that breaks us up.
Meagan:
Yeah, this is going to be the one. We'll be like, "Rob, you ruined our marriage."
Rob:
And on the buzzer. But you got through a whole podcast…
Andrew:
I love it how Meagan's like, "Oh, my God, I know Andrew's," and I'm like, what is mine? I don't know what mine is. Do I have one? I guess I do…
Meagan:
Ohh, okay…
Andrew:
I really don't want to write what I think I'm going to write for me, but…
Meagan:
You should.
Andrew:
Oh hell, I'm going to do it. Everyone's going to hate me for it.
Meagan:
I just…Rob, I can't pick my favorite typeface, is the problem.
Rob:
Then go for your go-to [typeface].
Meagan:
It's just so hard… Okay, well…I've answered.
Andrew:
Yep, answered.
Rob:
Last question. Assuming you watch Netflix…
Meagan:
Mm-hmm [agree]
Andrew:
Yeah.
Rob:
…what Netflix series could you rewatch on repeat?
Meagan:
Oh, that's a good one.
Andrew:
Now I'm like…because we watch Disney+, Hulu and Netflix, I'm like, which one's on which channel?
Meagan:
Yeah, that was my first thought, too.
Andrew:
Okay…
Meagan:
All right.
Rob:
Okay, class, pencils down.
Meagan:
Okay.
Rob:
Starting with Meagan, read down your left column: color, animal, dinner, typeface, series.
Meagan:
Okay. Favorite color would be pink, favorite animal, owl, favorite food, Thai. For font I put Georgia, but I have a lot of things to say about that. And for TV series, I put "Unsolved Mysteries."
Andrew:
Yes! Unbelievable.
Rob:
Okay. Andrew, hit us up your right column…yeah.
Andrew:
Okay, pink, dog, pizza, Abril Fatface because we used that on Owl Studios, but I guess…
Meagan:
Ohh, that's a good one…
Andrew:
…in general, it's always a chunky serif.
Meagan:
That's…ohh, he does know me.
Andrew:
And "Unsolved Mysteries."
Meagan:
Brilliant. Amazing.
Rob:
Wow on the buzzer there. Okay, dude, 2/5, right?
Andrew:
Yes.
Rob:
No owl hey, surprising.
Meagan:
I do love dogs.
Andrew:
Yeah, she does love dogs, for the record.
Rob:
Okay, Andrew, let's have your left column: color, animal, dinner, typeface, series.
Andrew:
All right, yellow, cat, roast dinner, Helvetica, "Archer."
Meagan:
Ohh…
Andrew:
… ahh Sofia [whispered]
Rob:
Meagan, let's have them.
Meagan:
All right, yellow, cat, pizza…
Andrew:
Pizza?
Rob:
Look at both of you…
Andrew:
I'm not American, I'm English.
Rob:
I can see what you guys are having tonight.
Meagan:
For some reason I heard the question as, "What's your favorite thing to get delivered?" I didn't think…if I was thinking about…
Andrew:
Yeah, roast dinner on delivery would be terrible.
Meagan:
Yeah, I should have known, roast dinner would obviously be the answer. For font face, I put Sofia.
Andrew:
I actually think that's a better answer, yeah.
Meagan:
You love Sofia.
Andrew:
Yeah, I do. Sofia Pro.
Meagan:
Yeah, that's what he uses on Club of the Waves…
Andrew:
Rob, it's honestly hard for me not to use Sofia Pro for every single website.
Rob:
Yeah, I'm using it on One Page Love.
Meagan:
It's so good.
Andrew:
Oh, yeah, it's such a great font.
Meagan:
It is.
Andrew:
I should have written that.
Meagan:
And I put "Archer." Yeah, so…
Andrew:
Yeah, I love, "Archer." I laugh my ass off at "Archer."
Meagan:
We just started rewatching "Archer," so that was almost too easy.
Rob:
Okay, so we have three.
Meagan:
Yeah. So, I won.
Rob:
Andrew is on dishes.
Andrew:
Yeah. Thanks, Rob.
Rob:
Wow. Let's end things off…where can your listeners follow your work online, Andrew?
Andrew:
Roomfive.net for my web design portfolio, and I actually just launched andrewcouldwell.com, if you can spell it, which is just purely focused on my product design. And go hit up clubofthewaves.com as well.
Rob:
Brilliant. And Meagan?
Meagan:
Owltastic.com is where I kind of have links off to all my things. Right now my stuff is a bit spread out, I'm kind of working on consolidating my portfolio. But Dribbble is where I post most of my work, Twitter is where I talk about stuff sometimes related to design and a lot related to mishaps in my life, and twin parenting. And then I have six different Instagram accounts, but…
Rob:
Your Instagram game is strong.
Meagan:
I have a really funny relationship with Instagram. I'm really obsessed, and every two weeks I'm like, "Babe, I'm going to create another account that's just about food," "Now I'm going to create an account about my running that I'm going to get into," and…yeah, it's crazy. But…
Andrew:
She has the same thing with Google accounts, I think she has about 20 of them.
Rob:
Yeah, I got lots.
Meagan:
And I'm glad to hear that it's not just me.
Rob:
Okay, wow. Big love for coming on the show, you two. That was super fun.
Meagan:
Yeah, that was so fun. Thanks, Rob.
---