Matt D. Smith (@mds) is an exceptional UI designer with a prolific catalog of design-related side projects. His most recently offering is Shift Nudge, an online learning experience to master designing beautiful and accessible interfaces. We go deep into course creation, the top 3 mistakes new UI designers are making, how he got his 3-letter Twitter handle and where we draw the line between copying a design and drawing inspiration.
---
Conversation Topics:
01:02 What's up with those Bulldogs in your home town?
02:08 How did you secure the 3-letter @mds twitter handle?
04:30 Do you think having a unified social media handle is worth the effort?
06:20 Promotion: Shift Nudge
07:00 Do you think having to support a family of 6 force you to level up and optimize?
09:50 Intermission: No Context
10:49 What makes a good button?
12:28 Where do we draw the line between copying and drawing inspiration?
17:52 With your dad teaching electronics in the army, do you think you got your eye for details and drive to teach from him?
20:57 Why does your Shift Nudge course have fixed enrollments windows?
24:52 Water break: AJLKN
25:07 Do you think you could charge double for the Shift Nudge course?
27:02 What are the 3 most common UI mistakes you notice?
30:32 Promotion: Yo! Podcast soundtrack on Spotify
31:00 What is the tech stack behind the Shift Nudge teaching platform?
42:02 Promotion: Landing Page Hot Tips Ebook
42:34 Leading up to the Shift Nudge course launch, what marketing effort had the best ROI?
45:10 Do you think having only one personal brand mailing list was the right call?
46:25 Why did you not have a weekly UI tip newsletter leading up to the Shift Nudge course launch?
49:15 Intermission: True, False, Maybe
50:14 Do you have any recurring income?
52:20 Have you considered turning Shift Nudge into a monthly subscription learning portal?
55:10 Intermission: Stretch Intervention
55:45 What ever happened to "Top Secret Design Thingy"?
58:03 Does Shift Nudge earn more than all your other projects combined?
58:23 Why don't you remove paywalls on all your design products to simply funnel in designer traffic to your current and future courses?
61:18 Why do you blog year end reviews?
62:55 What would you hope your April 2030 Instagram post would say reflecting on the past 10 years?
---
---
Bonus Episode Content:
My first conversational behind-the-scenes video with a freestyle of stories from the episode. Please let me know if you dig this level of detail or if it comes across as a ramble:)
And here is the timeline I made to stay on top of the interview (and his family if they came up):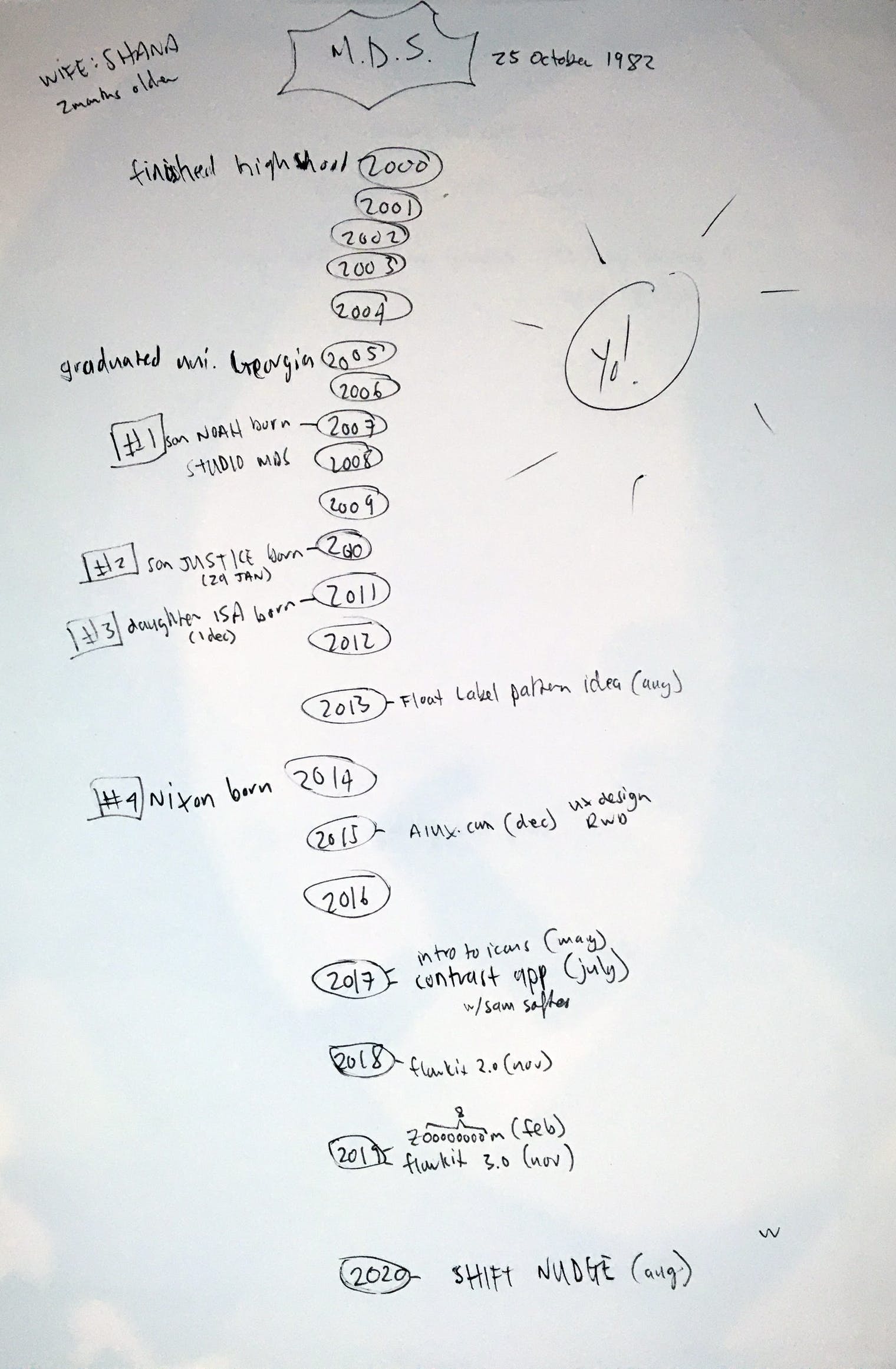 View Large
---
Transcription:
Rob:
Yo, Matt, Welcome to the show, my man.
MDS:
Thank you. Great to be here.
Rob:
So I'm researching "must do things in Athens, Georgia," and a recurring recommendation is to try to take a selfie in front of 30 fiberglass Bulldog mascots scattered around your town.
MDS:
Oh, my gosh.
Rob:
What on earth is going on there, dude?
MDS:
That's hilarious. So Athens, Georgia, for those who don't know, is a college town. And the college here is the University of Georgia, and the mascot is the Bulldog.
Rob:
The dawg.
MDS:
And at some point, at some point in the last…I don't know, decade, I think these things were around when I was in college, like 15 years ago or more, and there are little Bulldog sculptures… I mean, not little, they're about waist high, but they're all over the place. There's like, one in front of the firehouse, Fire Department, that's like, painted, it's got a little fire hat on it. There's one in front of the airport, and it's like, dressed up as a pilot, and it's painted. And it's funny to hear someone else talk about it because it's just one of those things that you see every day, and you don't think twice about it. But it is quite odd.
Rob:
You first came on my radar around 2017, 2018, when I added your one-pager for the Intro to Icons course to One Page Love. And when I deep dived a little deeper, I became extremely jealous at your three-letter Twitter handle, @MDS. Today you have @MDS on GitHub, Dribbble, Instagram and Twitter. How does one acquire a three-letter Twitter handle?
MDS:
Oh, my gosh, this was…this was the bane of my internet existence very, very early on. I think I joined Twitter in 2008 maybe, 2009, something like that. And at the time, I had no idea what Twitter was, so I signed up as my studio entity name, Studio MDS, and then I uploaded my company logo, and tried to be real professional. And then I found myself tweeting stuff about going to the grocery store from my business account, and I thought this is a little bit odd. And I think everyone kind of goes through this personal brand crisis…or a lot of people, I can't speak for everyone. But it's like, do I use my company name or how do I want to be portrayed? And I ended up just thinking, you know what, my business name is MDS, it's my acronym, it's my logo, it's my initials. And if people ever hire me, they're not hiring a big company, they're hiring Matt D. Smith, so I'm going to try to get MDS. And I actually changed it to Matt D. Smith for a while on Twitter, and then very early on, I noticed there was a guy who had MDS. He appeared to be a high schooler, and he tweeted once or twice about Peewee Herman, and was completely inactive, completely inactive on Twitter for several years. I tried direct messaging him, I tried to dig up his website and his email, and no luck, ever. And then a friend of mine became one of the design directors at Twitter. And again, this was probably a decade ago, so still a small team, a lot less regulations. And I saw him interacting with someone online about getting a username for someone, and he was like, "Yeah, send me a direct message," and so I was like, oh, this is my chance. So I sent a direct message, and he went in and unlocked the account, and I swooped in and snagged MDS, and the rest is history.
Rob:
Do you think the effort of securing a unified multi-network handle is worth it in the long run for growing a personal brand?
MDS:
That is an interesting question. I think the answer is yes and no. Because there are a lot of people that have different usernames across different networks, and people don't really care exactly what it is. I mean, it might make you feel good…it definitely makes me feel good to have MDS on multiple networks. But at the end of the day, people are just clicking links, and they don't really care what they're clicking on. It just matters that you are the same person across multiple networks. It's more of a vanity metric that makes you feel good about yourself more than it actually matters.
Rob:
I mean, I'm absolutely guilty. I've hunted down my Rob Hope matching. Obviously, I wasn't going to get Rob, but I got my own dot com, and this was maybe five years of combined work.
MDS:
It is a…it is a rabbit hole. I mean, I tried to buy mattsmith.com back in 2003, 2004, and that was not available. Plus, I also realized I have the most generic name in all of mankind, and so my very first domain I ever bought was mattdsmith. And I never went by Matt D. Smith growing up. I don't think using your middle initial is a thing that kids do. But once I kind of realized, you know what, I've got a pretty generic name, I need to go with Matt D. Smith, and so that kind of led to me using MDS for my business. And then I was like, oh, if I could buy mds.com, that would be amazing, but Momentum Data Systems has had that on lock for several decades now.
Rob:
Hey, friends, it's Rob from the edit. I was thinking there is no better use of podcast ad space than to promote my guests products. Shift Nudge is Matt's all-new online learning experience for designing beautiful and accessible interfaces. Over 600 students have joined since the first enrollment, and based on the course landing page testimonials, the impact it's making is huge. If you're keen to level up your design skills, head over to shiftnudge.com and secure a spot before the next enrollment window closes. Okay, back to the interview.
So, one of my go-to mantras is "don't be the victim." And I often think of your story when I'm overwhelmed, and how your revenue supports a family of six. You know, did four kids put real hot lava under your butt, and in turn, force you to optimize and level up?
MDS:
Oh, yes, absolutely. I have been more productive, more successful by however you measure success. A lot of people measure it different ways. But getting married and having kids was definitely a force multiplier for productivity, and just getting things done, and making smarter decisions because at the end of the day it's a lot of mouths to feed. And I think that I was…I've been way more productive and way more ambitious, and…fill in the blank since having kids, just because it adds…it does put kind of the lava on the floor, as you describe it.
Rob:
You know, I almost imagine when you're in that situation, it's more about saying no than yes.
MDS:
Yeah it's interesting, I think… You know, early on, my first son, who is 13 now, which is absolutely crazy to even say that out loud, he was born in 2007. And I was still pretty young in my career, and doing very odd design jobs that probably no one knows about. I mean, you might have uncovered some of that in your research, but…I don't even think I was known on the internet, really, by anyone until maybe 2013 or so. Even then, it was still small. But for five, six, seven years, I was hustling, doing freelance work, looking up jobs and contracting, and doing lots and lots of different things. A lot of it I did not enjoy, but I also just knew that there was a financial threshold that I needed to hit in order to be where I wanted to be, and growing. And so it's interesting because as you are growing in your career, you really need to say yes to a lot of things if your goal is to earn income. And so…but inevitably, what happens is if you finally get to a point to where you don't have…you have more people demanding your time than you can supply, then you end up having to say no. And that's definitely…I'm very thankful and fortunate to be on the other side of that now. I'm definitely saying no to a lot more things. But it wasn't because I said no in the beginning, it was because I said yes in the beginning, and then I think slowly, you have to slowly switch it to know and be more intentional about what you focus your time and energy on.
Rob:
Yeah, good advice. So, let's break into a little intermission I like to call No Context. Simply shoot back either of the two options I give you, no context given, no context needed at all.
MDS:
Got it.
Rob:
Ten thousand extra YouTube subscribers, or a full month of good sleep?
MDS:
Let's go with YouTube subscribers.
Rob:
Work Sans, or Inter typeface?
MDS:
Inter.
Rob:
Open source, or recurring revenue?
MDS:
Recurring revenue.
Rob:
Sketch, or Figma?
MDS:
Figma.
Rob:
Teaching, or learning?
MDS:
I'm going to say learning.
Rob:
Matte black or gloss black?
MDS:
Oh, that's easy, matte black.
Rob:
Twitter, or Instagram?
MDS:
Twitter.
Rob:
Final Cut Pro or Adobe Premiere?
MDS:
Final Cut, all the way.
Rob:
Four pixels or eight pixels?
MDS:
Definitely four.
Rob:
And final question, the details, or the bigger picture?
MDS:
Ooh…that one is probably the most difficult. Let's go with the bigger picture, hesitantly.
Rob:
Being a UI design expert and now teacher, what makes a real good button?
MDS:
A real good button. This is…no doubt you found this on GitHub.
Rob:
Yep.
MDS:
So, I actually…this was a little procrastination project. When I created this little good-button thing on GitHub, I was working on my very first course in, like 2014, or 2015. And this was around the time when there was a big flat design craze. At this point, I've been designing for 10 years, and if somebody… You know, these trends that happen, I just have to kind of take it with a grain of salt because I'm like, flat design, really? Like, we're just talking about blocks of color here. And I mean, I guess it makes sense in the light of skeuomorphic and kind of coming back. So I was having trouble finishing this project of mine, and so I was…and I was actually designing these kind of slightly gradient buttons, and I'm like, I'm just going to be a little satirical here. And I was getting into Sass and creating Mixins, and having a lot of fun creating little, tiny systems, so I just decided that I would…I would put a little a little…a little three-dimensional aspect to this button, and call it good-button, and make it available for everyone else. So I can't say that that's the only way to make a good button, because I've definitely created "flat" buttons, and more often than not I go for no gradient. But you know, a good button is clickable. That's the best way to describe it.
Rob:
So in 2019, you released the third version of your user flow diagram library called Flowkit. A few months later, unfortunately, someone released a very similar looking product, with a very similar brand name. Where do you think we should draw the line between inspiration and copying?
MDS:
Yeah, that was kind of interesting. You know, I…maybe in my younger days, I would get really upset about that, but I don't really care that much. And I guess at a higher level, I like to decide do I really want to invest my time in this? You know, do I really want to engage in this conversation online, do I really want to put my thoughts on this topic, as a way to spend my time throughout the day? And because I do have such limited time, with my family and all of the things I'm working on, I have to be extremely focused on even the conversations that I allow myself to get into. I might have a really strong opinion about someone's tweets or someone's thing that's happening. Even this thing where I saw a really similar branded product that I felt like it was…it wasn't a direct ripoff, but it was very, very, very similar. And I basically could not…I couldn't help myself but make a kind of obscure tweet, but I didn't want to tag who it was, or even link to the website, I just thought it was kind of…it would be a funny thing to say. And the guy ended up messaging me on Twitter, like a direct message, and we had a back and forth. And I was just asking him to…I was like, "You might want to consider changing the name, because it's… I mean, someone's going to…someone might try to come buy your product, but mistake it for mine, and vice versa." And I've actually gotten support emails sent to me from his product, and because the name is so similar.
You know, it's definitely not a novel thing to create a user flow diagram type of thing, but the name if the name is the same… Like if I created the "Yo! Matt" podcast, that might be a little…a little odd for you. And it definitely would hurt my search visibility. But I think when it comes to design-wise, inspiration versus copying, I think if you don't feel comfortable showing what you are inspired by compared to your original design, then it's probably too similar. And if you're going to… Yeah, I think everyone's inspired by things they see, but when it comes to design… And I actually have a lesson about this in Shift Nudge, using reference material. I like to steal only one element from an inspiration, like a color, like a hex code, or a font, or a layout idea. But if the font is kind of the thing that makes it what it is, then maybe that is maybe too much to take away as inspiration. Because if…and especially if you take more than one thing, it's going to be too blatant. For example, when I…one of the examples I use in the course is the Streamline Icons website that I designed with Vincent Le Moign…
Rob:
Mmm…
MDS:
…we actually collaborated on that. And I found this navigation concept from one of the Apple Watch websites, where it was just kind of in the bottom left there's a little scrolling kind of table of contents with anchor links, and I kind of used that as the concept behind the navigation. But then there was also a teal-color hex code that I found on a font foundry site. Actually, The Foundry's website that I bought the font we used had this really cool teal color, and I used both of those together and remixed them into a different thing. So in the lesson I show this is the Apple website, this is the Font Foundry website, and then this is what I created. And I think as long as you feel comfortable showing your inspiration along with your new design, and you don't feel guilty about it, or no one's pointing fingers and saying, "Ahh, it's a little too similar," I think that's when it's good to be inspired. But you know, there is a balance, and it's going to be contextual for each situation.
Rob:
That's a great takeaway. You know, to make you feel a little bit better, I was getting these strange emails quite a few years ago, just asking about their submissions on One Page Love, and where they went. And I couldn't exactly figure out…you know, I didn't receive these submissions anywhere. And I dived a bit deeper, and I realized that a competitor…and I shouldn't really name and shame, but they were called One Page Mania, and I took a look at their site and I'm like, yeah, you can call yourself One Page Mania, that's fine, you know? It's not the same website, it's a different design fair play. But then I went over to the about page, and they had copied and pasted my entire about page into their about page, including my email address.
MDS:
Oh, my gosh.
Rob:
I was getting emails, support emails on behalf of them. So yeah, I think that's the line, in my personal opinion.
MDS:
Yeah, that is definitely crossing the line.
Rob:
Your dad used to teach electronics in the Army, if I remember correctly. Do you attribute your eye to details, and even your drive to teach, from your old man?
MDS:
You know, that's really interesting. I've never really mapped it directly to him for the teaching, but I guess thinking about it now, he was always so articulate about how he would describe something. And just, he would talk about it and explain it until you were sick and tired of hearing it talked about and explained. No matter the topic, whether it was how he's grilling his meat, or how he is fixing electronics, he was… But he was the kind of guy that would take apart an engine and put it back together. He built these…he built kit airplanes, like the actual kind that you fly…he's actually building one right now.
Rob:
Mm-hmm.
MDS:
And when I was a baby, he built a Shelby Cobra from a kit, the like…
Rob:
Sick.
MDS:
…the racecar-looking…the engine, the body…like, he's always doing stuff like that. And so I grew up watching him build things, take apart things, and there was…there was one time when he let me… He had this 1979 Mazda RX7, and he bought it brand new, and when I was turning 16 in the late '90s, he was going to let me drive it. But it was really old at that point, and the stereo speakers had rotted out, and the dashboard was dry rotted, it had no radio, and he was like, "Oh, we'll just put in a new radio, and we'll wire up new speakers," and my mind was absolutely blown. I was like, "You can do that?! You can just put in a new radio?" I didn't know you could do that. And then, so we bought the CD player, we bought the speakers, and I'm just…I'm just kind of sitting back, thinking there's no way he's going to be able to do this. Like, there is no way you can get a new CD player working in a '79 Mazda RX7. And so he starts grabbing the dashboard and pulling on it pulling the dash out of the car, and I'm like, "Wait, you can't do that! You can't pull the dashboard out of the car," and he was like, he looked at me so nonchalantly, and was like, "Why not? Somebody put it in there, we can pull it out." And at that moment, my mind was just blown. And I think I do trace a lot back to that particular moment, where it's like, wow, that is so profound. Like, someone put it in there, and we can just take it out. So, I think I do attribute a lot of my ambitions, or…I don't put too many restrictions on myself when it comes to wanting to do something. I'm just like, well, somebody has done that before, I can figure it out, too. I mean, I'm not going to go build a rocket that makes itself land, but when it comes to other things that aren't quite as complex, I don't feel intimidated by trying new things. I really enjoy it, actually.
Rob:
So Shift Nudgem your Interface Design course is currently your primary focus, and I want to deep dive into a few selfish questions as I am embarking on a course in 2021. To start, I want to know why you've time-blocked enrollment windows instead of just continuously opening up commerce.
MDS:
Yes. So, this is definitely a very common question. And I think I initially found out about this time-blocked enrollment from a guy named Ramit Sethi. And if you've been in the kind of course industry, or looked up online marketing and kind of went down that rabbit hole, you will probably, inevitably come across him. He's written a book called "I Will Teach You to Be Rich," which kind of has a scammy title, but…and he admits that, but it's more of a personal finance book. And, but he's incredibly successful with online courses.
Rob:
I saw him on Matt D'Avella's YouTube show. He interviewed him.
MDS:
Oh, interesting. I didn't know…I didn't know he interviewed with him. I'll have to check that out. But I mean, the primary reason that he does it, and that I first learned about it, is to create scarcity. Because if you know something is going away, or if it's only available for a certain amount of time, you're more likely to make a decision about it. And that, although it does work, it always kind of rubbed me the wrong way a little bit. Like, I don't want to…I don't want to create false scarcity. I mean, there is nothing preventing me from adding someone to the course at any point, when they would like to get it. However, the same way that I don't want to engage in certain conversations on Twitter, even if I have a really strong opinion, because it just takes up too much of my time, that same philosophy, I think, is good for this course. Because when people join the course, I'm doing a lot of customer service, a lot of questions and answers, and it takes up… I mean, basically, for two weeks straight, I'm doing nothing but responding to questions, responding to tweets, responding to help support tickets, changing people's emails, refunding people's cards because they did it wrong lots and lots of support work. And I'm a one-man-show currently, for the most part, and it…it is completely…like, it is a full-time job for two people during that amount of time. Like, I probably work 80-hour weeks during those launch weeks. But then once it closes down and the dust settles, I don't have to worry about that anymore, and I can go on to working on the next thing, or more importantly, kind of supporting the people that are in the course. So it's not pitched as a one-on-one type of thing, and there's no synchronous meetings about the course, but everyone kind of joins at the same time, and you're… You know, it's almost like welcome to the party, everyone's chatting and introducing themselves, and I'm in the Slack channel as much as possible, saying hello, and you know, learning interesting facts about the new students, and… And so it just feels a little bit more like an event, and something that's timely kind of happening. But, and now I've added…I've added some design advisors. So I've hired some people…
Rob:
Smart.
MDS:
…to come in, and be available as kind of design mentors, and give feedback on the homework. And so now, now the time-block makes even more sense because most of the homework and most of the designs that are posted by the students are going to happen within the first two to three months, and then it'll kind of trickle out.
Rob:
You've priced it at $999 for, if I understand correctly, a once-off, or paid over six months. In hindsight, do you think you could even double the price?
MDS:
Yeah, so actually, the…I started off the beta as a paid beta. The course wasn't even fully complete, and I sold that for $997, or $199 at six months. And then when I went public with the course, I broke the course into two kind of packages, one was like the core plan for $997, and then the pro plan was $1,497. And it was either $199 for six months, or $299 for six months. And I mean, honestly, I think it could…I think all of those prices could be doubled, because I truly believe that there's that much value. I believe that if you were able to…if you went through the course from starting at zero, and then you went through the course, and you got one freelance job for $1,500, then you would have immediately made your money back. Or if you got a a full-time job as a UI designer, even entry-level…you know, a lot of interns are making $100,000 at Facebook. So I think the value itself is totally worth it. I know a lot of people get hung up on the cost alone, but I think thinking of things as cost only is a bad way to look at really anything. And I don't…I'm not trying to convince someone to not think about the cost, because I mean, expenses and paying money and feeling the burden of that is a real thing. But if you think of it in terms of value, the value that you're getting and the value that you are receiving as an investment into your future career, then I think that will shift your perspective a little bit.
Rob:
You know, you've done hundreds of students' assignments, all in video, and I think you're using Loom…
MDS:
So many.
Rob:
Wow. What would you say are just the three most common mistakes inexperienced designers are making in the user interface design? You don't have to go into too deep level, just the three common that are recurring.
MDS:
It definitely depends on the level of the student. But from a purely visual perspective, when it comes to user interface design, making your visual interface look nice, fonts, colors, typography, all of that. I would say one of the biggest things that I notice are too many font sizes being used. For example, like if you have a mobile screen, someone might have four, five, six different font sizes for different things when you can really get away with just using one font size or two font sizes, and then vary that size with either weight or more negative space or a slightly subdued color. And then you've also got upper case, sentence case, title case, there's a lot of different ways that you can manipulate one font size to give it a lot more variety, and it will kind of create a little bit more of a clean interface. So, that would be number one.
Number two maybe gets a little bit more advanced. I would say that number two would be using strict mathematical spacing versus optical alignment, optical spacing considerations. So, I'm a big believer in kind of a four-point grid, and I like everything to be multiples of four, when I can. But if you rely on that too much, you might…you might not have enough padding on the bottom of your button, or the margin on the bottom, so you kinda have to zoom out and look at what compositionally looks too tight or too narrow. And it really depends on the contextual alignment of everything around each other. And so kind of using that optical alignment to say, okay, well, maybe this…maybe this is a multiple of four, but it needs to be 56 pixels instead of 48 pixels, because it needs a little more space because of these other elements. And I think that's hard to get when you're starting out because it's more of a layout kind of ability that you develop as you've gone through screen after screen. So, that would be number two.
Number three, I would say…a big one would be just color usage in general. Picking one color to mean, hey, I am tappable. This is the tappable color. I'm not going to make my titles and my buttons the same exact color, unless I'm very intentional and I'm using maybe a black and white color scheme, maybe there's some flexibility there. But most people are not…when they're making color mistakes, they're kind of haphazardly choosing different colors without a very specific color definition associated with each little element. And in addition to that the mistake I see a lot of people, they don't know about accessibility, and they're making their grays way too light, and it's kind of failing contrast scores. That's another big one. So font size, optical spacing and color usage are probably the top three. And there's probably thirty more I could go into, but I would leave it at that.
Rob:
We share similar traits where we are not satisfied with the out-of-box solutions out there, even if they tick nine out of ten boxes, and we'll end up building the whole tech stack ourselves, and I have a funny feeling you've done that for Shift Nudge. What is the tech stack behind your teaching platform?
MDS:
Yeah, so surprisingly, I used a lot more off-the-shelf things for Shift Nudge than I did in the past. So before I dig into Shift Nudge, I'll just say quickly that when I did my first course in 2015, it was called AIUX, and I was teaching responsive website design wireframing, with Adobe Illustrator. Completely random, very niche. So, I was…I was a little bit more naive back then, and recruited a Ruby developer friend of mine to help me build this fully custom backend, where I was tracking students' progress, and we had…and it was just the whole thing. And it was actually a nightmare to use in production because there was no way for people to change their credit card information, there was no way to deal with chargebacks and refunds, and it was…I'd have to go into stripe.com and refund people from there, but it was just a big mess from a customer service point of view. And it was difficult to rely on him. He was just kind of moderately involved in the beginning, and I didn't want to bug him all the time "Hey, could you push these changes to the app, because I need to do X, Y, Z." And so anyway, fast forward five years, I'm like, I don't want to deal with that headache anymore. So when I was searching for commerce tools for Flowkit, which is how I initially found this new stack, I ended up landing on this product called SendOwl, sendowl.com, and it's really just kind of a digital delivery mechanism. And what I like about SendOwl is it kind of gives you everything you need to charge with a card or with PayPal, and it will give you a little URL kind of checkout template, if you want it, with a product page, but it also allows you to embed the little cart pop-up on your own website. And it handles payments. It handles six payments and then it stops, or it handles subscriptions, or it handles one-offs. You can give someone a file to download, or you can redirect them to a URL. And it's just kind of just enough for what I need to do the customer service side of things, but then I can still create my own little custom website for sales and marketing.
And then for the actual course for Shift Nudge, I was writing…I probably used three different tools while I was making the course. So, I wrote in Ulysses, I had a bunch of files in iA Writer…I made the course over a period of about two years, and at some point I started using Notion, and really liked it, so I started organizing everything in Notion, and using quick keys and creating pages. And I kept thinking ah, I never really had a full idea of how I was going to deliver the course. I was thinking maybe I'll use Kajabi, maybe I'll use Teachable, maybe I'll put it on a Ghost membership site…I was never fully sure, I just knew that I needed to produce the content. And then at a certain point, I was like, what if I just hosted all of this on Notion? What if I just kept it here? And what if I embedded videos, and I just invited people as guests? And I thought that's a, it'll…that's one idea, I might do that. But their API wasn't ready, and I was thinking, ah, I've got to… you know, if somebody buys the course, I need to tie into the API and send an automatic invite. And then finally, I got ready to release the beta course, and I basically decided, you know what, I'm going to limit this to 100 people anyway. And even though there's no automated way for me to invite someone to Notion, I'll just do it manually. I'll just track the order, I'll invite them to Notion as a guest, I'll do that 100 times, and it'll be fine for the beta. I'll make a video, I'll explain everything, and maybe it won't be too bad. And so that's exactly what I did for the beta. The order comes through, and then I manually invited someone to the Notion workspace as a guest, so they could comment on all of the content, they could navigate, they could see everything exactly as I see it, and it actually worked amazingly well. So well that I actually left it like that for the public launch.
Rob:
Rock and roll.
MDS:
And I manually invited every single customer for the public launch, by myself, to the Notion workspace. Because they still don't have an API. I kept thinking to myself, surely they'll have the API ready when I get ready to launch this thing…and they still don't.
Rob:
It's $1,000 task. It must feel great.
MDS:
Exactly. Yeah, I mean, it's like…I am beyond thrilled to manually invite someone to the Notion workspace. And also it creates a friction…like, it's good friction between me and the customer. Because then I can…I have an automated email that says, "Here's what's going to happen. I'm going to manually invite you as fast as humanly possible…" keyword on "humanly." And sometimes people buy something with their PayPal address, and they need to use this other address for Notion, and I pride myself on being lightning-quick with my replies and customer support because I did time-block the enrollment, and that's my 100% focus for the time. And it gives me a chance to just say like, "Thanks so much for being here. This is awesome, I can help you right away." When they introduce themselves in Slack, I'll respond and I say "If you're up for it, give me one interesting fact about yourself."
Rob:
Nice.
MDS:
And then they say, you know…it kind of creates a little interesting dialogue. And so I try to make it a point to comment on them, welcome them, and sometimes we find that we have something in common and so it's a fun little banter back and forth. And so that whole process, just having conversations with people and making them feel welcome, I really appreciate. I would want someone to make me feel that way, and so I enjoy doing that for new customers and new students. And so it would be nice if it was automated, but it would take a little bit of the personal human touch out as well.
Rob:
Is there an immediate or automated message just saying "Hey, thanks for your order. I might be sleeping, give me six hours?"
MDS:
Yes. Yeah, so I actually have a page that I redirect someone to when they buy the course. And I actually made a video, and it's a two-minute video, and it's like, "Yes, you did it! Thanks so much for joining, I really appreciate this. Here's what's going to happen. All right, your order is going to SendOwl, you'll get these emails from SendOwl, and then you're going to get an automated email to join the Slack group." And then I say "I'm on Eastern Standard time, and as long as you purchased sometime between 5:00 am and 8:00 pm, I'll probably send you the invite within the hour. If not, I'm asleep, and it'll come a little bit later." But again "Thanks! I'm going to get to you as fast as humanly possible." And I have everything written in text form as well, and I've had very, very, very little issues with that. And I think…in my opinion, I think it's kind of fun. I mean, I know that somebody wants to get it right away, it's not necessarily ideal to have to wait a little bit. But you're exactly right, I have said "Hey, if you don't get your invite right away, I'm probably sleeping."
Rob:
It's all about that communication. So, I actually need to really blog about how I've done my ebook, because I've learned some hard lessons along the way with Gumroad. I've sort of pieced together this automation between Gumroad, a PDF with instructions, a WordPress secret website that's not protected by a password, but might be…
MDS:
Right.
Rob:
You know, it's like… But I've actually through optimization, through feedback, I've created an automated flow now where I get a sale, I don't do anything, and then within a day, someone mails me and says, "I'm loving the ebook." So, absolute win. It took a long time to get there.
MDS:
Yeah, and it's funny that you don't really think about this when you're… When you're sitting down to design an "experience," it's actually really challenging to think about all of these little communication touchpoints, like the message that the web page, or the message that you show once a customer buys something, or when they first login, or when this happens, or when that happens. And I think you really don't fully understand that. Even as a designer, I feel so much more empowered as a designer, having gone through this multiple times, and realizing how important the copywriting is, and how important the messaging is, and the communication. But it really is a pretty big task.
Rob:
And you know, when it comes down to the speed of the automated email, like if you're on a slow, cheap email service provider, and that comes within 15 minutes, that's just like you've opened a can of worms there.
MDS:
Yeah.
Rob:
Whereas you could pay a little bit more a month, and you've just saved yourself maybe ten emails of support.
MDS:
Yeah, and one of the biggest things that I added to my stack for Shift Nudge was I added in Help Scout for support tickets and chat, like live-page chat. I had another chatbot with my analytics provider, GoSquared, that I used to use, that was good enough, but then I added Help Scout, and it creates a little support ticket… And a lot of times if someone buys Shift Nudge, or even Flowkit, a lot of times…sometimes SendOwl will have server issues and their email doesn't get sent.
Rob:
Wow.
MDS:
And you'd be surprised how many people typo their email when they buy the product. And they're like, "Hey I bought this 30 minutes ago, and I still haven't gotten an email," and then I look at it and it's like, "Oh, you put a typo in your email. But here's your order link," you know, "let me know if I can help with anything else. And I changed your email for you," and… So having that chatbot and the support tickets you hear that oh, having a chatbot will increase your sales 15%, and you never really understand how powerful it is to be able to talk directly to a customer, and to be able to solve issues like that. Like, I don't think…when you're designing something, you don't often account for somebody sending…putting a typo in their email, but it happens a lot, and so do a lot of other mistakes.
Rob:
Yo, friends, it's Rob from the edit again. Some of you might be wondering what is this ebook we're talking about, so I thought I'd drop a shameless plug. My "Landing Page Hot Tips" ebook shares 100 bite-sized tips to implement in your landing pages. As the "Yo!" podcast is ad- and sponsor-free, this is a great way to help support the transcriptions and the fun voice outsourcing in each episode. Simply head to robhope.com/ebook to grab 20% off. Okay, back to the convo.
That was a brilliant catch. So out of your distribution efforts…and you know, I want to say distribution post-course, but you have such a small enrollment window so maybe I'll rephrase it to leading up to the course, what do you think your strongest marketing effort was? You know, what had the biggest return on investment, leading up to the course?
MDS:
It's difficult to qualify what was the best effort. I didn't really have a very strong, intentional this is exactly what I'm going to do to market the beta course. I did try to…you know, I created a Shift Nudge Twitter and Instagram, and I did post a lot about creating the course. I would post blooper videos where my kids would walk in during a lesson, and those would often get a lot of traction, because really, they're just kind of funny, and everyone can relate, especially with 2020 being the way that it has. And so I think that, and I would…I posted the kind of stereotypical "Sign up to get notified when it launches," so if you go to the Twitter profile, you can click on the link, and you can get on the email list. But I think possibly beyond that, one of the bigger things, and a lot of people in the marketing world will say this, but just building an email list, really. I've been actively building an email list since about 2014 or 2015, that was… You know, you mentioned that you found me because of the Intro to Icons website, and that was…that was actually a presentation that I gave at Adobe MAX that I repurposed for an online course so that that would be kind of an email, lead generating type of website. So it explicitly says "Hop on my MDS VIP list to get access to the course." I mean, that…I actually need to redo that course because it's quite outdated, but that website alone, I think, has probably generated 10,000 email signups.
Rob:
Wow. That's amazing.
MDS:
And having other little small, free things that are po-… Or before that website, I had some other little things you could download, like a wireframing kit, or jump on this email list for this or that, and so just random places as many… I like to think of it as poking holes in the internet. However many places you can poke a hole in the internet and let emails fall through, or whatever, to get traction.
Rob:
In hindsight, on the whole operation leading to this point, do you feel one global personal brand list is better and easier to maintain?
MDS:
I think it is. I think it very much is. One list…I'm not an expert when it comes to email marketing, and I have made a lot of mistakes, but I think the best way is just keep everything on one list. And when you go to send emails you want to be respectful of…you know, just because you bought Flowkit doesn't necessarily mean that you want to hear emails about Shift Nudge. So you know, you have to find a balance between speaking to the audience that signed up to get your stuff, even if the emails came from two different places. So sometimes, I might send a big blanket email that kind of hits a bunch of different points, just to keep the email list aware that you exist. I'm not great about doing this regularly. But then also sometimes you just…the time comes to send a bunch of emails because you have a new product, and you just kind of prepare for a bunch of unsubscribes, and don't worry about it.
Rob:
It's interesting for me, I look at your set, everything you've got on the table, how you have the course coming up. And I was watching what you were doing and trying to learn, and I was thinking this would be a perfect time for you to promise a newsletter that was just saying, "Subscribe every week, I'll drop in a UI tip," but at the same time… You know, this is the classic debate that I have in my head that just goes around in circles, it's like I'm thinking Matt's probably working on the course. That's why he's not wasting his time doing this. And it's like I always question what I'm doing. So I'm actually going to create some sort of landing page digest, to try and share as much as I can leading up to the course, but I can't promise weekly. There's so many little decisions that go into these things, but it's interesting to watch people, and I watched you didn't do that.
MDS:
Yeah, it is…it's a very messy process. I think there's no way around it, it is just a messy, creative process, creating a book or a course. And I think if I were…on the other side of it I think if you were to check all the boxes on best things to do definitely sending out a weekly email would be the way to go about it. But it's really, really hard, and I don't think I have the mental capacity to work on the course, and the newsletter, and a video, and tweets, and whatever, Instagram post, whatever. It's just…it's overwhelming. And I feel like when I get overwhelmed, I just cut things down to the essential. And 20-…the last half of 2019, when I really started focusing and cranking up production on Shift Nudge, it was a really hard year, the last half of the year for me personally, before even 2020 hit. And I could barely function to just get my work done on Shift Nudge, so it was like, there's no way that I'm going to produce extra marketing. I had a hunch that at least for the last five years, where I've been building this email list slowly, I've built somewhat of a small audience on YouTube and continue to grow slowly but surely on Twitter, and I felt like that would be enough to at least get the beta off the ground. And then I wanted to really, really be product-focused, and have my kind of product engine cranking, and then eventually I will add in a little bit of my marketing engine. And I've done that a little bit with the Shift Nudge tips now on Twitter, but it's still really challenging to both support students and produce this. So, I think it's a balancing act, and it really depends on your product and what's going on. So if you can do it, by all means do it. But if not just focus on getting it done.
Rob:
Let's break into a final intermission I like to call True, False or Maybe. Simply shoot back either of those three words, true, false or maybe, no explanation needed at all.
MDS:
Got it.
Rob:
The D in Matt D. Smith stands for Daddy.
MDS:
Maybe.
Rob:
Designers should learn to code a bit.
MDS:
Maybe.
Rob:
One of your first side hustles was Forecaddying.
MDS:
Yes.
Rob:
Flash was the platform where creativity peaked.
MDS:
Mmm…maybe.
Rob:
Twitter has peaked.
MDS:
False.
Rob:
Designers and developers fighting depression should start with getting in shape.
MDS:
Maybe.
Rob:
Redesigning a house is easier than redesigning an established brand identity.
MDS:
False.
Rob:
Building something tangible is more rewarding than building something digitally.
MDS:
True.
Rob:
And last question, subscription income is overrated.
MDS:
Maybe?
Rob:
Okay, so I'm just wondering, looking at everything you've got on the table here design-wise, tons of projects, do you have anything that's got recurring income?
MDS:
Nothing is recurring on a monthly basis or kind of a time period basis. Like, even the Shift Nudge course, I mean, I have recurring income for that, but it's got a cap, it's more of a payment plan for six months.
Rob:
Mmm.
MDS:
And Flowkit has…I mean, I guess it depends on how you define recurring income. I think most people would define that as a monthly charge or a very regular charge. But Flowkit makes money every week, every month, and you know, it is recurring income, but it's from new customers.
Rob:
Yeah.
MDS:
So I don't have any very specific membership, monthly type things. And I've definitely thought about it. I've even had students who've finished the course, and they still want…even some of the beta students, I was… I made myself fully available for personal feedback on all homework, all of their personal projects, I was giving feedback over and over and over, and I've had several of them asking me about, "Is there any way I can do a mentorship with you on a monthly basis after this?" And I actually would love to do that, but I'm…like I said earlier, I'm kind of hesitant to make a commitment to something that I'm not sure if I have the bandwidth for or not. Because there's a lot of implications if you have a membership or recurring revenue that's specifically tied to providing value every month, I don't necessarily want to be on the hook to do something spectacular every month because you're paying me monthly. So, I much prefer the kind of asynchronous…here's something, you paid for it, you received it, we're good here. And I'll do that as much as I can, until I feel like I'm in a place to where I can do something that's more worthy of a recurring model.
Rob:
So painting two pictures picture A is more your setup now, asynchronous, blocked windows, set amount of students, set amount of demand from you. Picture B has $100/month subscription but you've hired people to help as sort of design mentors to your students, and you have maybe five courses that are broken down into maybe even sub-modules. And so anyone can, at any design level arrive, sign up, and they can stay as long as they want, and just keep learning, and you keep adding new courses because of your subscription income. What's a better picture?
MDS:
I think you can do both. I've definitely considered both models, and I like…I really like the one-time course purchase price, as opposed to I'm just going to pay $100 a month for access to 50 courses. Because I can't tell you how many subscriptions that I've signed up for, where it had really good courses and it wasn't that expensive, it didn't really hurt that much to pay for it, and I never ended up doing it.
Rob:
True.
MDS:
It was like, oh, that would be cool to learn SwiftUI. Like, I want to do that…and I've probably paid over the course of a couple of years probably $1,000, and I'm like, oh, I actually never took that course. So, I think…I think it's important that there's a small amount of pain. I mean, and I say this in a good way. Like, it almost needs to be a little bit painful for you to actually take action.
Rob:
Yes.
MDS:
I feel like it's the same…it's the same as if you're working out. Like, if you're not pushing yourself, whether you're running or lifting weights or whatever, if you're not pushing yourself a little bit beyond what you're comfortable with, you're not going to grow. And if you get something for free or if it's really cheap, you're not that likely to go through with it. And I want people coming out of Shift Nudge to be absolutely action-packed, did all the homework assignments, I'm so much better of a designer now, and for the cost to be a drop in the bucket compared to the value that they're going to receive for the years to come, because they went through the course. And so for that reason, I think the one-time payment, and it being a little bit heavier of a price tag, is important. But picture B that you present, with maybe there's some kind of mentorship model, and it's more about ongoing critiques and feedback, I think that is absolutely, absolutely valuable. But I think that needs to be secondary to kind of taking that initial leap.
Rob:
Let's heat things up slightly. Actually, a lot.
MDS:
Let's do it.
Rob:
How deep you want me to go?
MDS:
How deep? You go as deep as you want.
Rob:
Whatever happened to Super Top Secret Design Thing?
MDS:
Ohh, yes…yes. So, I had this idea…I actually even formed a business entity for it, 99 Pro Tips was going to be the name of this course. And I had an amazing group of people involved, I had everyone on board, I got some paperwork drawn up. And so the idea was going to be I am going to create a course called 99 Pro Tips, and it was almost going to be a model. The first one was going to be about design, and it was going to be me and eight other people, and we were all going to give our best eleven design tips, and they were going to be a three- to five-minute tip, like a video. And it could really be anything that the person wanted to provide. And I'm like 99 Pro Tips, it will cost $99, and I think I had the original model where every person involved was going to get 9% of course sales. And I was like, this is genius, because then you can recruit all these people that might have a large social following in different kind of respectable areas, and then everyone that…you know, anytime anyone made a sale, everyone benefited. So, it was like a big affiliate product, so to speak. I mean, to this day, I think it's a great idea. But what ended up happening is I just did not have the bandwidth to pull that off. I was still trying to create my own course, and it was more of a secondary idea that I had randomly when listening to this audiobook. It didn't even have anything to do with business, it was a different type of book. But I realized that it was too ambitious for what I wanted to do. I was barely able to work on my own courses and get that off the ground, and a lot of these other people that I had recruited didn't have a lot of video experience, and I was like, you know what, to do this properly, I'm going to need to fly everyone to the same studio and record it all in one shot. I still think it's a great idea, but it's just like, it's a little bit too ambitious right now. Maybe in the future.
Rob:
You've got a pretty healthy and widely spread inventory of design-related side projects, we're talking the Zoom typeface, Flowkit, Intro to Design course, Contrast Mac menu bar app, and now Shift Nudge. In a two-part question, is Shift Nudge earning more than everything combined?
MDS:
Yes, absolutely.
Rob:
Now, with the assumption that you are planning more online courses, why don't you simplify and remove the paywalls on your full network of design products, and funnel in designer traffic purely to the course?
MDS:
Well technically, the only paywall besides Shift Nudge is Flowkit and Contrast. And so Contrast is actually a joint effort between Sam Soffes and myself, and technically it's under his entity because he's the Mac developer, he has all of that set up, so we just have kind of a simple little agreement. And I don't know if you could actually funnel someone from a Mac app to a course. You don't technically know exactly who your customers are in that way.
Rob:
Designers.
MDS:
Yeah, I think…I think Flowkit, I could possibly funnel people into Shift Nudge design course. But I think the people that are creating user flows are ever so slightly different than people that want to learn the visual side of interface design. Now, there is a lot of overlap. I do have a lot of user experience, user flow-type designers that are in the course, but at the same time, I have a lot of customers for Flowkit who are top-notch professionals, working at some big shot company, and they just needed an awesome user flow tool. I've actually contracted out a lot of the development for the Flowkit plugin, and I don't think I would be motivated to work on it quite as much if it was just an email generation type thing. So I think it comes back to the value that this tool provides will easily save you multiple hours of time. And again, it was kind of something that I wanted for myself, and something that I kept recreating over and over. And so I do…I have considered putting everything under the Shift Nudge umbrella, like Flowkit from Shift Nudge, and Contrast from Shift Nudge…
Rob:
Yeah.
MDS:
…and it's still kind of a thought in the back of my mind, because I definitely plan to release new courses under the umbrella of Shift Nudge. I think eventually the current course will be the Shift Nudge Interface Design course, and a new one might be the Shift Nudge product design or front-end code or…you name it kind of course. It kind of goes back to the whole username fiasco does anyone care if this is all Shift Nidge or Flowkit, you know? And so I have to try to limit my focus because I would easily…I mean, you're talking to the guy that will spend eight hours fiddling with camera settings and lighting before he records a 30-minute video.
Rob:
You know how many listeners just heard you say that, and go, "Yeah. Truth, brother. Truth."
MDS:
Exactly. So it's so easy for me to go down the rabbit hole on stuff like this, so I try to limit it.
Rob:
So I'm winding down, second to last question. You've been publishing your year-end reviews on your blog, and you know, it really helps for the research for me, but you know, I've done them in the past, and they really help sort my thoughts, Adam Wathan's a big advocate of them because they sort of remind you of what you actually got done. It's really…for him, he said it was good for his mental health. Are you going to continue doing them? Why do you do them?
MDS:
Yes, I am definitely going to do them. I have to definitely agree with Adam, as well. I know, like just from the feedback that I've gotten from people, it has been helpful, and people appreciate it. And I'm glad for that, but it's definitely a very selfish, cathartic thing for me to do. Not selfish in a bad way, but it is…you know, it's so easy to go by…two years goes by, three years goes by…I mean, 2020 is an absolute blur for me, and I'm sure many other people. And so what I do is I go back through some of my emails, some of my tweets or blog posts or YouTube videos, and just kind of make a big outline of everything that happened, everything I worked on. I go back and I look at all of my kids' birthday videos, and my birthday video, my wife's birthday video, things we did on our house… And it's just kind of I've always loved the idea of journaling every day, or keeping a journal, but I'm absolutely terrible at that, so this is my procrastinator's way of journaling and creating these blog posts, and now I've kind of transitioned into doing them as videos.
Rob:
Final question, Matt. In April, you shared a heartfelt post on Instagram, comparing your physique from 2010 to 2020, where you're radically more in shape. What do you hope the Instagram post will say in April 2030?
MDS:
Ooh…I hope that the Instagram post in 2030 will be just as good if not better, and at that point, I'll have a 23-year-old son, so maybe…maybe he'll be standing beside me, and he's really active and healthy, along with all of my other kids. So, ah, there's a lot of…a lot of things I could say about that. But just being healthy and being active, it does wonders for your mind and for your life, and so I hope I'm able to stay injury-free, and stay healthy enough to continue that.
Rob:
Brilliant. Great answer. Matt, where can everyone follow your journey online?
MDS:
I think the best place to go would be @MDS on Twitter.
Rob:
Wow, you promo'd Twitter over your own website. How dare you?
MDS:
Well it's like, that's the…it's the more personal touch, you know? You're going to get to know me on Twitter more than you will checking out my outdated website.
Rob:
Cool. Matt, thanks so much for being on the show.
MDS:
Thanks so much for having me, Rob.
---